Frequently Asked Questions About LightScribe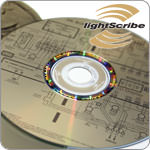 One of the most asked-about products we carry is our line of Accutower LightScribe disc duplicators. Because LightScribe is a relatively new technology, customers often want to know more about these machines and how they work. We have compiled a list of the most frequently asked questions and published it here for your reference.
What is LightScribe?
LightScribe is a disc labeling technology that etches text and graphics directly on the surface of a specially coated LightScribe CD-R or DVD-R disc. This technology is found in computer disc drives, external burners, and tower duplicators bearing the LightScribe logo.
How does LightScribe work?
LightScribe coated discs experience a safe, nontoxic chemical reaction when the label side of the disc is hit with a low-power laser. The result is that your text and graphics are permanently etched into the surface of the disc.
Who invented LightScribe?
LightScribe was invented in 2004 by an engineer at Hewlett-Packard.
What is required to use LightScribe?
To use LightScribe technology, you'll need a LightScribe disc duplicator, LightScribe-recordable DVD or CD discs, and supporting software.
Does LightScribe printing require ink cartridges?
No, the print technology is a dry process that does not use expensive ink cartridges.
Can LightScribe be used with other types of discs?
LightScribe disc labeling is only supported on discs that bear the LightScribe logo. Other types of discs cannot be printed using this technology.
What type of disc labels can I make with LightScribe?
Users can create disc artwork ranging from basic text to full photo backgrounds using the label design software.
What colors does LightScribe print in?
LightScribe can print labels in black with grayscale.
How long does it take for the prints to dry?
LightScribe artwork is safe to handle as soon as the discs are finished printing. The artwork will not smudge or smear once it is printed.
How long does it take to print a disc?
Print times vary depending on the artwork and the quality of the disc. A full disc print at the highest quality setting may take up to 30 minutes to complete printing.
What colors of discs are available?
Besides the standard gold surface, colored LightScribe discs are also available in red, orange, yellow, green, and blue.
Can LightScribe labels be erased and rewritten like a CD-RW or DVD-RW disc?
No, LightScribe labels are final once burned. However, you can go back and place additional content on the label at a later date. Artwork will need to be correctly aligned to avoid interfering with text and graphics that are already burned.
Can a LightScribe drive be used for recording CD and DVD discs?
Yes! LightScribe drives record information to the data layer and artwork to the printable side of the disc.
Is there a way to automatically flip LightScribe discs after burning?
Unfortunately, no. LightScribe discs in a stand-alone duplicator tower must be flipped over by an operator.
Is LightScribe compatible with my computer?
The LightScribe System Software and LightScribe Template Labeler programs required for use with the Accutower LS and LS+ duplicators are compatible with PCs running Windows 7, Vista, XP, and 2000. Macintosh computers are not currently supported.
Where can I go to learn more about LightScribe?
You can read more about it in our other LightScribe blog articles. To research prices, features, and specifications of LightScribe tower CD/DVD duplicators, please visit CDROM2GO.com.