Free Disc Label Templates from CDROM2GO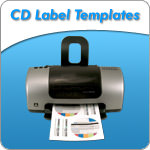 We've blogged a lot lately about CD and DVD labels. We have compared the cost of printed labels with inkjet printers and found them to be more affordable. We have outlined the steps to printing your own labels in our Guide to DIY CD Labeling. Today we're going to look at how to design your label artwork for printing using a computer.
It's easy to order a package of DVD/CD labels or case inserts from CDROM2GO, but what do you do when they arrive at your door? Basically, there are two ways to design your labels for printing. You can use the free templates we post on each product's page or you can download our DiscStudio label design software.
Both options are available free of charge. Which one you use depends on your own level of comfort in using a computer to design and print labels. Hopefully this article will give you the information needed to make that choice for yourself.
How to Download Our Free Templates
Let's start by talking about templates. Every printable label, insert, and entrapment that CDROM2GO sells includes a free DVD/CD label templates that you can download from our website. A template is a pre-made file that helps you position your artwork correctly on the disc.
Each template must be opened with the program for which it was created. Our templates are pre-made for popular programs such as Adobe Photoshop, Adobe Illustrator, and Microsoft Word. This allows users to place their photos, designs, and text quickly and easily.
With your artwork ready, print one sheet of blank labels on your inkjet or laser printer to check the alignment. If everything looks good, go ahead and run the whole job! If not, you can always adjust your print driver or document margin settings and try again.
This technique is recommended for experienced users, graphic designers, and other professionals. Using our pre-made templates provides the greatest level of control over your artwork, however it also requires a few extra steps compared with our free design software.
How to Download Our Label Design Software
Yes, DiscStudio by US Digital Media is one-hundred percent free to download, install, and use forever. The newest version was released just last month and includes a compatibility update for Windows Vista. (There are still some issues with Printer Alignment in Windows 7). This program has layouts for all of CDROM2GO's discs and labels built in, so there is nothing else to download once the software is installed.
It's easy to design custom layouts for your CDs, DVDs, jewel cases, and DVD cases with DiscStudio. The software includes a palette of tools for manipulating text, clipart, photos, and more. The drag-and-drop interface is very easy to use.
The first time you go to print from DiscStudio, a printer alignment may be required. This is a one-time step that must be performed in order to guarantee proper printing with your machine.
Whether you choose to download our free templates or our free software, there are plenty of options for creating your own custom labels and inserts. Please visit our website to browse the complete selection of printable CD/DVD labels, inserts, and entrapments we have to offer.