The Guide to DIY CD Labeling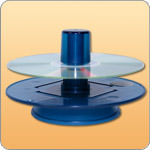 There is no question that automated disc printers make the job of printing large quantities of discs much easier. But what if you cannot afford a fancy disc printer or simply do not need to do hundreds of discs at a time? The truth is, CD labels are the easiest and most cost-effective way to produce custom discs in short runs.
There are several reasons why printing your own disc labels is a great idea: they are inexpensive, they work with your existing laser or inkjet printer, they are compatible with both CD and DVD discs, and they look much more professional than labeling discs with a permanent marker or other cheap solution.
So how do you get started creating your own CD labels? Just follow these steps:
1. Buy Your Labels
Your local office supply store may carry one or two types of disc labels, but online specialty stores carry printable CD labels for all types of discs including mini, business card, and full-size discs. Once you select the correct size, make sure to choose Laser or Inkjet depending on the type of printer you have. You can also choose from a matte or a gloss finish depending on your preferences.
2. Buy Your Discs
Applying your labels to a disc with an inkjet or thermal printable surface is not only silly, it is unnecessary. Often times, it can be 10 to 30 cents cheaper per disc to purchase blank CD or DVD media without a printable coating on it. Applying your labels over the top of a shiny silver or lacquer disc can save you some serious cash and does not affect the quality of your discs.
3. Print Your Labels
The key to printing great labels is to start with great artwork. There are a wide variety of programs out there to assist you with designing and printing your label artwork. Free programs such as DiscStudio by US Digital Media provide an easy way to design, print, and save your label artwork without spending a dime.
4. Apply the Labels.
Even a brain surgeon would have a difficult time applying labels to a stack of discs by hand. Fortunately, CD label applicators make the job much easier. These simple devices can be purchased for as little as $10 dollars, and they are well worth it. Using an applicator ensures that the labels are perfectly centered on the disc, each and every time. I cannot recommend them enough.
5. You're Done!
That's really all there is to making your own custom CD labels. With the right attitude, anyone can learn to create and apply their own labels like a professional.
What are your thoughts on CD labels? Please use the comment box below to post your opinion.