Stick to It with Adhesive Disc Hubs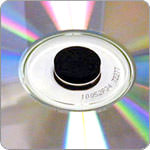 There are countless ways to package a disc, but there's only one way that really sticks with you! Adhesive disc hubs (sometimes called CD buttons) are a clever way to mount CD and DVD discs to nearly any surface.
These hubs are typically made of foam or soft plastic and feature a peel-off adhesive backing. This means you can attach them to the insides of magazines, flyers, and catalogs. They also stick to textbooks, computer towers, and just about everything else.
There are several reasons why these adhesive disc hubs are a great idea. First, they are extremely light weight. For catalogs and flyers that are sent through the mail, light weight is key. Next, they are very affordable. Foam CD/DVD hubs are just 6 cents each when you purchase a 500-pack. That may seem like a lot, however they do tend to disappear quicker than you might think!
Finally, they are secure. Adhesive hubs are slightly larger than the center hole of a CD or DVD disc so that they hold the disc safely in place. All you have to do is place the disc over the hub and gently press down. The disc slides on to the hub, which then expands in size to keep the disc from falling off.
Removing the disc is just as easy. Simply grip the disc from the outer edges and slowly pull it towards you. The CD is released while the disc hub stays attached, ready to be used again in the future.
There are a lot of applications where these self-adhesive hubs can be useful. Magazines and publications that provide their readers a free demo or sample disc could save a lot of money by switching to adhesive disc hubs instead of more expensive packaging such as plastic cases. Real estate agents, travel agents, doctors, and other professionals can use them to easily add a demonstration video to their existing product literature and brochures.
Of course, foam CD/DVD hubs have many great uses beyond the ones listed here. Pick up a pack for yourself and discover just how useful they can be!