Rackmount CD/DVD Duplicator Roundup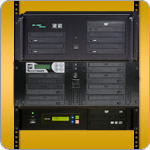 The most popular type of DVD duplicator by far is the tower. Tower duplicators are assembled with the drives in a "stacked" or vertical configuration in what looks like an oversize computer case. But there is another type of duplicator that you may not be familiar with: the rackmount duplicator.
Rackmount and tower duplicators have a lot in common. They copy CD and DVD discs from a source drive to one or more destination drives. Both of them are designed for high-volume environments, and of course they both copy discs quickly and efficiently.
The big difference between tower duplicators and rackmount duplicators is the shape of the case. Rackmount duplicators are designed to be mounted in a standard size 19″ equipment rack, such as those used in the communications, computing, audio-visual industries. Towers are tall and narrow, rackmount cases are short and wide.
Rackmount duplicators are a space-saving solution for professionals. By mounting a disc duplicator in an equipment rack, this frees up space on a shelf, desk, or the floor where a tower duplicator would normally be set up.
So what kind of rackmount CD/DVD duplicators are available? Let's take a look at three different models to see how they stack up against each other.
Microboards 4-Drive Rackmount Duplicator
The CopyWriter Pro Rackmount Duplicator by Microboards features one source drive and four 22X DVD/48X CD recorders. A built-in hard drive allows users to store copies of master discs or make custom music compilations.
Everything from the power switch to the display screen is easily accessible from the front of the machine. The steel case occupies 4 rack units (4U) of space. Perhaps the only downside to the Microboards rackmount DVD duplicator is its steep $995 dollar price tag.
Accutower 7-Drive Rackmount Duplicator
The Accutower rackmount duplicator by US Digital Media features one source drive and seven 22X DVD / 40X CD recording drives. There is also a built-in 250GB Serial ATA hard drive for storing and archiving disc images.
This machine offers three more recording drives than the CopyWriter Pro, yet it occupies the same 4U of rack space. The stylish black case features plenty of holes for ventilation to keep things running cool. Best of all, the Accutower rackmount DVD/CD duplicator is a bargain at just $819 dollars.
1-Drive Rackmount Duplicator
This rackmount CD/DVD duplicator from TASCAM features one master drive and a single recording drive. It can quickly copy discs on-the-fly with its 20X DVD / 48X CD burner.
Two distinct advantages set this machine apart from the rest: its compact size (a mere 2U compared with the larger 4U models above), and its low price tag. At just $325.99, the TASCAM rackmount duplicator is an easily within reach of DJs, recording studios, radio and TV stations, and other professional users.
The right machine for you will depend on your needs and your budget, but the one that stands out to me is the Accutower 7-drive duplicator. It offers the greatest number of features while providing good value for your money. While it is not as small as the TASCAM or as pricey as the Microboards unit, the Accutower is the rackmount CD/DVD duplicator I would recommend.