Protect Your Discs with Tyvek CD/DVD Sleeves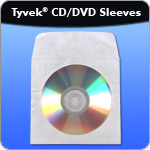 Have you ever heard the expression "looks can be deceiving?" This is certainly true of Tyvek CD/DVD sleeves. While they look just like a paper CD sleeve, Tyvek sleeves are almost a miracle product in the packaging industry. To understand why these sleeves are so special, we need to first understand the material they are made of.
Tyvek was first discovered in 1955 by Jim White, a researcher at the DuPont Corporation. Tyvek is DuPont's trade name for high-density polyethylene (HDPE) fibers that have been bonded together using a technique called flashspinning. This process transforms plastic into a web of microscopic fibers which are "woven" together and formed into sheets. Flashspun plastic looks very similar to paper yet it has a much higher strength-to-weight ratio.
Tyvek has proven to be an incredibly useful invention for humanity. Today it is widely used in construction, medical, and many other industries. Other applications include wrist bands, car covers, protective apparel, and mailing envelopes.
In fact, you may already be familiar with Tyvek if you are one of the 15 million people who use Netflix. The web-based movie rental company uses Tyvek sleeves for protecting the millions of DVD and Blu-ray discs they send through the mail each year.
Tyvek CD sleeves have several advantages over regular paper sleeves. Like your high school gym teacher, they are tough but flexible. This means that the sleeves can bend and fold any which way without tears or rips. They can be used again and again without falling apart.
Next, Tyvek protects against the elements. Tyvek is commonly used as a moisture barrier in the construction of new homes because it breathes extremely well. Water vapor can pass through it, but liquid water cannot. By packaging your CD or DVD discs in a Tyvek sleeve, they are safe from harm against spilled liquids.
Better yet, Tyvek is also an environmentally friendly material. The plastic HDPE fibers contain up to 25% post-consumer material and can be recycled into other goods.
Finally, Tyvek sleeves are available with just as many options as their paper counterparts. You can purchase colored Tyvek sleeves, single or double disc sleeves, and sleeves with or without a window and flap. It is safe to say that they are a near perfect replacement for paper sleeves in every way.
The next time you need packaging for your CD and DVD discs, consider Tyvek sleeves. With so many benefits, they might just become your new favorite type of disc packaging!