Enhance Your CD/DVD Project with Case Wrap Bags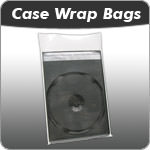 Yesterday we talked about automated CD/DVD packaging equipment from Verity. Their machines are excellent for high-volume production, but what can you do to enhance the appearance of your smaller size jobs?
I'm going to let you in on a secret. If you produce CD or DVD discs in small quantities (100 pieces or less), you too can have professional looking cases without purchasing specialized equipment. The trick is to pick up a package of self-sealing case wraps.
Case wrap bags are made of crystal clear plastic called BOPP, which stands for Bi-Axially Oriented PolyPropylene. This is a fancy name that chemical engineers use to explain the molecular structure of the plastic. Besides its remarkable clarity, this type of plastic is also very thin and strong which makes it ideal for protecting disc cases.
Case wrap bags are available in an assortment of sizes including standard size DVD cases, thin DVD cases, and CD jewel cases. All you have to do is slip your CD or DVD case into the bag and press the adhesive seal closed. That's it! No heat guns, sealers, or machinery needed.
These bags will protect a CD or DVD case just like shrink wrap and overwrap, but at a much smaller cost. Like other forms of plastic wrap, these bags keep cases from getting scuffed during shipping. They keep dirt and moisture out while making sure the disc stays in. Finally, these poly bags are a good anti-theft measure for CD and DVD products destined for retail sale.
Perhaps the only drawback to these self-sealing bags is the amount of time required to use them. Each case must be inserted by hand, folded, and sealed. The more cases one has to do, the longer it will take. At a certain point (usually about 100 discs or so), it becomes more economical to use a partially- or fully-automatic wrapping machine.
So where can you get these case wrap bags for yourself? They are available from disc packaging specialists such as CDROM2GO at some very affordable prices. Check them out today to see if plastic case wraps are right for your application!