Gold CDs and DVDs: Your Archive's Solution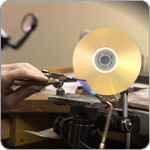 Nothing lasts forever and unfortunately your CDs, DVDs and Blu-rays are no exception.  However, one disc design on the market makes media storage worth your while: gold archival discs.  They take the standard shelf life of 5 to 100 years and multiply it—striving to keep your data shining on long after you and your posterity.
Gold is not only a global symbol of wealth, but a harmonious fit with optical media thanks to its composition, and manufacturers like MAM-A (Mitsui) have recognized that.  For example, the average disc you buy online or at a big box store is most likely engineered with a reflective layer of alloyed aluminum.
The purpose of this layer is to help your drive's laser reflect, read and sometimes write the data of the disc's recorded layer.  The higher the reflectivity, the better your disc will function.  Over time, the aluminum of this layer starts to decay.  Corrosion is a natural reaction for aluminum when it's exposed to air or water, but something less than a gentle breeze or a drop of water can wreak rusty havoc: an aluminum layered disc can start to oxidize quickly around high humidity.  Tiny scratches or fissures in the disc's surface will only aid the entrapment of moisture and air between the layers.  As a result, aluminum loses its luster, oxidizes and decays to the point of no return, where your disc can't be used in any capacity.
That's where gold comes to the rescue.  The properties of this precious metal make it resistant to rust.  By replacing the standard metallic alloyed layer with a 24 carat gold layer, disc makers maintain the reflectivity that keeps CDs, DVDs and Blu-rays alive longer.  Accelerated Life Tests (ALTs) by Mitsui reveal that their gold MAM-A CD can last up to 329 years and the gold MAM-A DVD up to 116 years when subjected to stresses like heat, light and moisture.
The value of gold outweighs aluminum every time, and that's reflected in the price of gold CDs and DVDs.  They will run you close to a dollar more per disc.  In spite of this, the price of gold archival discs could pay off for your storage needs.  The amount of backups you'll have to do will be less frequent.  More importantly, there's no price on the peace of mind the durability of gold discs will bring to your most valuable audio, video and images.
Would you pay extra cash for gold CDs or DVDs?  Why or why not?