How To Clean Rimage and TEAC Thermal Disc Printers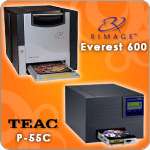 Without a doubt, the best way to keep your equipment in proper working order is to stay on top of the routine maintenance. For example, a car needs oil changes and tire rotations at regular intervals to ensure smooth, trouble-free operation. Like a car, a thermal disc printer also needs a tune-up every now and then.
Whether you have a TEAC P-55 or a Rimage Everest printer, proper maintenance is essential to maintaining good print quality. So what kind of service do thermal CD/DVD printers need? Let's take a look at two of the most popular models to find out more about maintaining each one.
The P-55 thermal disc printer from TEAC is an impressive machine. With four different ribbons and a variety of autoloading platforms, there are dozens of different ways to customize the P-55 platform to your exact needs.
You can use the P-55 as a manual-feed printer, an autoloading printer, or combine it with a base unit for complete disc burning and printing capabilities. No other manufacturers offer this much versatility when it comes to their disc printing systems.
In order to keep the P-55 rolling along, TEAC recommends cleaning the thermal print head, the platen roller, and guide plate roller at regular intervals. This should be done each time the ribbon is changed, which is approximately every 500 prints.
The easiest way to do this is to pick up a P-55 printer cleaning kit. These kits come with everything you will need including the cleaning solution, applicators, and step-by-step instructions. The cost of one $20 dollar cleaning kit will go a long way towards maintaining that $5,000 dollar investment.
With the Rimage Everest, customers have their choice of three different thermal ribbons and the option of an autoloading robotic arm. The Everest's 600-DPI resolution is excellent for printing photo-quality images directly on CD and DVD discs.
Because the Everest is a thermal printer like the P-55, it has many of the same parts which must be kept clean. Rimage recommends cleaning the print head and the tacky rollers whenever the print ribbon is changed, or approximately every 2,000 prints. They recommend cleaning the platen roller only if you are experiencing print quality issues.
Printer cleaning kits are included with the purchase of most Everest CD/DVD media kits. These kits include everything you need to run large jobs including printer ribbons, transfer ribbons, and the appropriate printable media.
By keeping up with the regular maintenance for your thermal disc printer, you can maintain a high standard of print quality and prolong the life of your machine. As the old saying goes, an ounce of prevention is worth a pound of cure!