Warner Bros Expands DVD2Blu Trade-In Program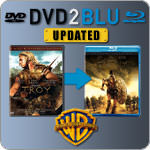 Last year, Warner Bros. launched a unique trade-in program to help movie lovers make the transition to the Blu-ray format. It's called DVD2Blu, and it lets customers trade in their existing DVD movies by mail for a copy of the same movie on Blu-ray.
I first wrote about DVD2Blu earlier this year in my article "Warner Bros. Launches DVD to Blu-ray Trade In Program." Now, Warner Bros. has expanded their program and made it better than ever!
A recent press release from Warner Bros. highlights some of the changes, which include:
» Lower cost per movie
» Number of movies increased
» Free Shipping requirements raised
These changes will address some of the issues raised by critics of the trade in program. For example, the cost per movie has been reduced to just $4.95 each (down from $7.95). Consumers who want to trade in a handful of movies can now do so for less expense than they could previously.
Another change is that Warner Bros. will be expanding the number of Blu-ray discs available for the DVD2Blu program. New titles will appear on the website as soon as they are available. Some of the most popular trade-in titles are action movies such as "Under Siege" and "Superman Returns" along with classic movies from the 1980s such as "Risky Business" and "National Lampoon's Christmas Vacation."
Finally, the minimum order required to receive free shipping has increased by $10 dollars. From now on, orders must be over $35 in order to receive free shipping. Orders less than that amount will have to pay a small fee for return shipping.
This is not as bad as it sounds. If you were planning on exchanging a couple of movies to begin with, nothing will change. If you were going to upgrage your whole movie collection, then you still get free shipping. Customers who send in $25 to $35 worth of movies will have the highest shipping costs, however this is also a stronger incentive to send in just a few more movies in order to get free shipping.
In my previous article, I had wondered what would happen to all of the DVD discs that were sent in to Warner Bros. As it turns out, a lot of other people must have been wondering the same thing. WB included the following message in their latest press release:
"Warner Bros. Home Entertainment Group is proud to be an environmentally friendly company and will recycle all DVDs mailed for upgrade. The discs will be processed and used for future plastic packaging."
So there you have it. More movies to choose from, lower prices, and a clean conscience about recycling your old discs. There's never been a better time to make the switch to Blu-ray discs than now! To get started, please visit www.dvd2blu.com today!
Please note: Warner Bros can only accept titles listed on their site for trade in. Movies from other studios such as MGM, Sony, and Paramount are not eligible for trade in through the DVD2Blu program.