Sharp to Introduce New 100GB Blu-ray Discs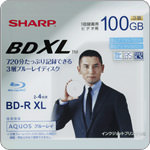 If there's one thing we are excited about at CDROM2GO, it's Blu-ray. It is remarkable how much the Blu-ray format has evolved since it was introduced nearly four years ago. This is because the Blu-ray disc is more than just the replacement for the DVD, it is the gateway to very large and very cheap storage.
Three months ago I reported that the Blu-ray Disc Association, the group of manufacturers who oversees the Blu-ray disc format, had approved the final specification for the latest generation of discs. These new extra-large discs (BD-XL for short) were approved for production in sizes up to 128 gigabytes.
The most recent development in the Blu-ray XL saga happened just this week. A press release from the Sharp Corporation indicates that these "extra large" capacity Blu-ray discs are not just a fantasy, but a reality. Sharp has not only developed the first recordable BD-XL discs, but they are set to go on sale in Japan on July 30th, 2010!
The new discs (part number: VR-100BR1) will have a capacity of 100 gigabytes. This is enough space to store 12 hours of terrestrial digital TV broadcasts, or 8.5 hours of BS digital TV broadcasts according to Sharp.
The secret to BD-XL's success is the addition of a third recording layer sandwiched into each disc. Until now, blank DVD and Blu-ray discs have been limited to just one or two recording layers. The release of this new triple-layer disc is an impressive feat of engineering that will give Sharp a real edge over the competition.
At an estimated price of $60 dollars each, the 100GB Blu-ray discs are definitely geared towards power users and professionals. But when you compare the cost-per-gigabyte with a similar sized hard drive, they are a real bargain! Release dates for the US and for the rest of the world have not yet been announced.
We will be sure to keep you posted with further developments regarding these awesome discs. In the meantime, you can find a great selection of recordable Blu-ray discs on our website. We have both blank and printable Blu-ray discs so stop by and check them out!