Lite-On iHBS212 12x Blu-ray Writer: Worth the Speed?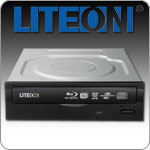 Global optical storage leader Lite-On responds to an upswing in Blu-ray demand with their own version of warp speed: the launch of the fastest yet BD writer, iHBS212 12x Blu-ray Writer with LightScribe. This Blu-ray device boasts a 12x writing speed, a SATA interface for top performance and airflow plus state-of-the-art laser-etched LightScribe labeling.
The Lite-On writer offers SmartWrite technology—it allows users to be multi-taskers who can "burn and work" all at once. Set the device to max speed while opening other applications; it keeps the amount of failed disc jobs to a minimum. Its SmartX feature cuts down on noise for your playback.
While this bigger, badder and so-called better disc hardware aims for the cutting edge of its industry, should consumers take a step back before diving head-first into this product? After all, you can often run the risk of losing quality to speed. One should also consider that popular Blu-ray disc formats have not caught up with the technology. Have you ever seen 12x recordable discs readily available to the everyday customer?
Think of digital cameras. Each camera tries to out-market the other by enticing you with more megapixels. However at some point, the clarity and quality of the picture can only look so good to the human eye. The war over megapixels soon turns into just who can spend more on bells and whistles for their latest camera.
The iHBS212 12x Blu-ray Writer debuts first in Europe at the end of the month and will cost around $200. It is priced comparable with other 12x writers, and the next step down at a 10x writer with LightScribe will run you about $90 less. Its competitive price is a plus, and each consumer will have to consider the value of getting 2x more for their writer.
Recordable Blu-ray media is still not priced to its increase in demand, although the cost is slowly coming down. CDROM2Go offers blank BDs as low as $1.49 per disc and printable Blu-ray discs as low as $1.55 per disc.
As Blu-ray emerges into mainstream appeal, it's likely that we could see those 12x discs that are ready to roll with the high-speed writers. Then again—as media struggles to keep up with the hardware—keep in mind that while bells and whistles are nice, they may not always be required to produce excellent results.
Do you think Lite-On's new iHBS212 12x Blu-ray Writer is worth purchasing? What do you believe makes a good Blu-ray writer? We'd love to hear from you.