CD Labels: The Canvas for Your Media Project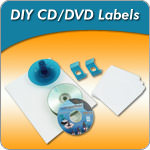 The word "label" often gets a bad rap as something that we use before we get a chance to truly know what lies behind it. But in the case of CDs, DVDs and Blu-ray, the chance to make a solid first impression is everything. That's why CDROM2GO offers what you need in CD labels to "wow" your audience.
Producing a do-it-yourself CD project may seem a little daunting. You put your blood, sweat and tears into the content of the disc—now you have to worry about how it looks?! Simply put, yes. After all, you'd rather see what's inside a gift package adorned in pretty bows, shiny paper and ribbons than one that's just wrapped with newspaper. CD labeling does not have to be rocket science to get the results you want.
You won't have to worry about forking over hundreds of dollars for a quality printing label program. Instead, anyone can download our free CD labeling software: US Digital Media's DiscStudio. Not only is it PC-friendly, but it lets you design your own custom labels with your own printer. No dollars lost there.
Our free CD printing software brings disc design to your desktop with more than 1,000 background and Clip Art images included to jumpstart your media project. It's an MVP in the fact that on top of helping you create artwork, it churns out more than two dozen full-size or mini disc CD labels, as well as inserts. Go to CDROM2GO.com to learn more and take advantage of this free download.
Similar to your choice in a CD printer (if you choose to get one), we have labels for both inkjet and laser printers. Then it's all about the finish. A matte finish on your discs is the way to go if you want good results on a budget. If you spring for a gloss finish, you will pay more, but you'll see it in the finished product: high shine, vibrant color and sharp detail.
Size doesn't matter when it comes to inkjet and laser labels, we offer mini and business card sizes for custom label discs. These blank labels cost just a few cents per sheet. Also be sure to take into account the size of the center hole of your CD so you end up with the right fit.
We carry name brand Neato labels which give your CD labels a clearer image with high-resolution output. Some of our additional labels maintain the Neato quality while giving your wallet a break, and are still compatible with other Neato products like their applicators.
The way you apply your labels makes all the difference, otherwise you run the risk of dealing with a crumpled, unprofessional mess on your disc and a lot of wasted time. The right applicator will streamline the process and give you the results you want. US Digital Media offers a 4-in-1 applicator which transforms to fit almost any size disc for label application. If the disc's center hole won't fit, Turbo offers applicators to fit additional center holes.
If you don't like to pick your CD label products a la carte, CDROM2GO makes it easy by offering the complete package in disc labeling. The ProLabeling System gives includes our label design software, labels, discs, label applicator and paper sleeves. This all-inclusive package is an ideal option when you can't splurge on a CD printer, or have the need to invest in one. A labeling package gets the job done beautifully, professionally and accurately for a fraction of a printer's cost. Think of it as the simple, affordable steps to your next work of art.