The True Cost of Inkjet Printer Cartridges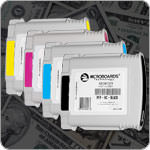 Many people shy away from inkjet disc printers because of the perceived high cost of buying ink. After all, those tiny cartridges are awfully expensive, aren't they? Some magazine articles have even compared the cost of ink cartridges to gold, caviar, and champagne in terms of dollars per ounce. So is it really true that buying an inkjet disc printer will suck the money right out of your wallet? Not at all.
In fact, inkjet CD/DVD printers are one of the most economical ways to produce customized discs. The comparisons between ink cartridges and other expensive commodities do not accurately reflect the value you get from each cartridge. The critical flaw in these arguments is that the cost per cartridge is used for comparison, rather than the more important cost per print.
You see, a glass of champagne and a spoonful of caviar are single-use servings while an ink cartridge is not. Ink cartridges are designed to last for hundreds or even thousands of prints before needing to be replaced. Let me further illustrate my point with a real-world example.
The Microboards Print Factory Pro is an automated machine that can print up to 100 CD or DVD discs per run with its built-in inkjet printer. The machine's four ink cartridges (cyan, magenta, yellow, and black) cost about $50 a piece, or about $200 for a full set. Before you balk at the price, just hear me out.
While $200 bucks sounds like a lot, it's actually not bad at all. The reason I say that is because Microboards' PF Pro black ink cartridge is good for an astonishing 20,000 prints at 10% coverage! Yes, you read that correctly: twenty thousand prints from a $50 dollar ink cartridge. Each printed disc with black ink costs about $0.0025 cents per print.
Microboards' color ink cartridges are also a smoking deal. The cyan, magenta, and yellow cartridges are good for approximately 1,500 prints each. Some simple math tells us that each color costs about $0.03 cents per print. When you look at the cost of printing a full color disc (one that uses all four inkjet cartridges), you can estimate it to be approximately $0.10 to $0.12 cents per print.
Compared with other print methods, this is ridiculously cheap! Most users will not need to buy more than one or two sets of cartridges per year. Let's look at another example to illustrate my point.
A thermal CD/DVD printer such as the TEAC P-55 can also do full-color printing directly on discs. Instead of ink, it uses a four-color ribbon and a thermal print head to print on discs. The color ribbon costs $175 dollars and is long enough to print exactly 500 full-size discs. That works out to a cost of $0.35 cents per disc – significantly more than the Microboards inkjet printer!
When you look at the cost of ordering supplies, the TEAC's $175 ribbon seems more attractive than the Microboards' $200 set of ink cartridges. However, when we look at the TRUE cost (the cost-per-print), we can see that the inkjet printer from Microboards costs significantly less per disc.
The point that I am trying to get across is that it is the cost-per-print, NOT the cost-per-cartridge that matters! When you look at it that way, it's easy to see why inkjet printers are the most popular choice among consumers for printing their own CD and DVD discs.
Also, I should mention that the point of this article is not to bash TEAC for their marginally higher cost-per-print. TEAC printers provide extremely consistent and stable colors, which can be a requirement for design professionals that need to produce an exact color for a logo. However, if you're shopping around for the lowest cost-per-print bar-none, then it's important to be able to make an accurate comparison.
CD/DVD printers, ink cartridges, and all kinds of supplies are available from vendors such as CDROM2GO. They stock a huge selection of ink cartridges for Microboards, Epson, Primera, and other disc printers at everyday low prices. Be sure to check them out for great deals on ink cartridges and more!