CDROM2GO Proudly Introduces Philips Blank Media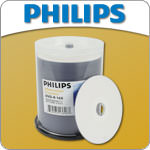 From health care and lighting to medical equipment and consumer electronics, there is no question that Philips products are everywhere in our lives. Now, CDROM2GO is proud to welcome Philips recordable media to our lineup!
Philips is a global manufacturer with a long history of electronic and consumer storage products. They are credited with the invention of the compact cassette and the Laserdisc. Philips partnered with Sony to help launch the Compact Disc format in the early 1980s, and was a founding member of the Blu-ray format.
Today, Philips manufactures blank recordable CD and DVD discs for use in a wide variety of applications. Philips silver top CD-R discs are a great choice for affordable audio or data storage. CDROM2GO now stocks these discs at the amazing low price of $0.19 cents each – in any quantity you need starting at 100 pieces. If you need to buy a lot of blank CD discs, this is one price that's tough to beat!
Of course, we also carry white inkjet hub printable CD-Rs from Philips. What makes these discs so special is that the printable coating extends all the way to the center hub of the disc. With a full color picture or artwork, you can print edge to edge for a truly seamless disc! This gives the disc a very professional appearance that really impresses audiences.
What do you do when a CD just isn't big enough? Then check out our Philips DVD-R discs! Just like the CDs, these discs also feature a white inkjet hub printable surface. They can easily be loaded into an inkjet disc printer such as a Primera Bravo or Epson Discproducer.
Plus, DVD-R discs have a much larger capacity for storing videos and data. Up to 2 hours of DVD-quality video or 4.7GB of data can be stored on each disc. With a starting price of just $0.28 cents per disc in the 100-pack size, these blank discs won't break the bank.
Philips DVD media products are available now through CDROM2GO.com. Please visit their website for details, pricing, or to place an order.