Microboards Announces Comprehensive Software Updates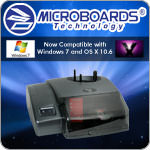 Microboards is known throughout the disc publishing industry for their great products and excellent support. The company recently published a significant software driver update for their entire line of products. The update adds compatibility for Windows 7 (32-bit and 64-bit editions) and Mac OS X 10.6: Snow Leopard.
Updates are available for the following Microboards equipment:
» Microboards G3 Autoprinter and Publisher
» Microboards PF3 Autoprinter
» Microboards PF-Pro Autoprinter
» Microboards CX-1 Disc Publisher
» Microboards MX-1 and Microboards MX-2 Disc Publisher
The new drivers are available for direct download from the Microboards website at www.microboards.com; no registration or sign-up is required. Simply click on the name of the machine you have in the left-hand column and select the tab for Software and Drivers.
With the latest drivers installed, customers will be able to enjoy the full functionality of their Microboards CD/DVD printers and publishers on the latest version of their preferred operating system.
To learn more about the different printers and publishers that Microboards offers, please take a moment to browse the Microboards Store at CDROM2GO.com.