Epson Releases Updated Version of DiscProducer Software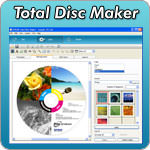 It's no secret that we have doled out our fair share of praise over the Epson DiscProducer and its counterpart, the DiscProducer Autoprinter. Both of these machines have impressed us with their speed, print quality, and reliability. But the good folks at Epson are not resting on their laurels! Instead, they have been hard at work on a new version of their Total Disc Maker software, which is now available for download.
Total Disc Maker is the full-featured software suite that comes with the Epson DiscProducer Autoprinter. The program allows users to design, save, and print their own custom artwork directly on CD and DVD discs. When used with the DiscProducer Publisher, it also lets users set up their CD/DVD projects to be burned automatically.
The full package includes Epson Total Disc Maker Version 3.0 for designing and printing labels, Total Disc Setup for configuring your printer's settings, Total Disc Monitor for monitoring job progress, Total Disc Net Administrator for keeping track of job progress, and the latest version of the printer drivers for all models.
The good news is that Total Disc Maker version 3 is fully compatible with Microsoft Windows Vista and Windows 7, both 32-bit and 64-bit versions. Complete system requirements are posted on the Epson Expert website. Unfortunately, a MacOS version is not available at this time.
To update your PC to Epson Total Disc Maker v3.0, please visit the manufacturer's website at www.EpsonExpert.com. You will have to create an account in order to download the files, but registration is free and takes just a moment.
If you have been waiting for the right opportunity to try the Epson DiscProducer for yourself, there's never been a better time than now. That's because customers who order any DiscProducer Publisher or AutoPrinter through CDROM2GO will receive 500 pieces of DVD-R discs or 600 pieces of CD-R discs absolutely free! For more details and information, please visit The Epson Store at CDROM2GO today!
UPDATE: Total Disc Maker v3.51 is now available as of May 2011. Please see our related article for the list of new features and download information.