5 Questions You Should Ask Before Buying a DVD Duplicator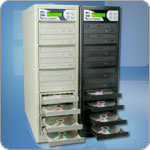 Like the cell phone and the microwave oven, a DVD duplicator is one of those inventions where once you have used one, you wonder how you ever did without it! A duplicator is also like a cell phone because there are dozens of different models to choose from. How do you pick the right one? To help you select the best machine for your needs, I have put together this list of 5 questions to ask before buying a DVD duplicator tower.
1. How many discs do you need to produce in a day/week/month?
Your needs will determine the size of the duplicator you should purchase. If you copy a handful of discs each month, a 1-drive, 3-drive, or 5-drive machine may be all you need. If you copy discs in high volumes or you anticipate future growth, then we recommend going with the largest size tower that you can afford. CDROM2GO offers DVD duplication towers with up to 11 recording drives.
2. Do you need an automated duplicator?
Automated CD/DVD duplicators have the ability to load and copy a high volume of discs completely unattended. Machines such as the CopyDisc from Verity Systems can record up to 220 discs hands-free, while machines from R-Quest and Microboards can handle up to 1,000 discs per job. While automated burners are larger and more expensive than a standard duplicator tower, they can really save on time and labor costs.
3. Which do you need: full features or great value?
CDROM2GO offers over 40 different models of duplicators to choose from. Our Accutower DVD copiers are built with high-end Pioneer Serial ATA drives. Accutower duplicators include a built-in hard drive and have an optional Blu-ray upgrade available at the time of purchase. The AV Pro line of duplicators are designed to produce disc-to-disc copies reliably and affordably.
4. How will you label your discs?
There are a lot of options available for labeling your own discs. Besides traditional inkjet and thermal disc printing, you could purchase a LightScribe DVD/CD duplicator that will etch your artwork directly on to the LightScribe printable discs. Better yet, LightScribe lets people cut costs because the prints are laser etched on to the disc surface. Say goodbye to ink cartridges and ribbons forever!
5. How well is it supported?
There's more to choosing a duplicator than just features and price. Support is an important part of every major purchase, and CDROM2GO understands that. All of our towers are backed by a 1-year factory warranty with extended warranties available. Each machine also includes lifetime telephone support for as long as you own the unit!
With these questions answered, it should be pretty clear what type of duplicator is best for your needs or the needs of your organization. If not, you can always call in and speak with one of our knowledgable sales associates. They are here to help you so don't be afraid to give them a call (toll-free) at 877-992-3766.
You can also browse our selection of DVD/CD duplicators from the comfort of your home or office by visiting our website at CDROM2GO.com.