Primera Introduces New Bravo Archive Series Disc Publishers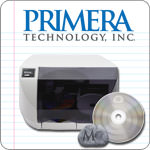 Primera Technology, makers of the famous Bravo Pro and other disc printers, has just announced two new additions to their line of optical storage products. The new Primera Bravo Archive series includes two models: the Bravo SE Archive Publisher and the Bravo Pro Xi2 Archive Publisher. Both of these machines provide archival quality storage unlike anything ever seen before with optical discs.
That's because the Primera Bravo Archive series does not use traditional blank CD and DVD discs. Instead, it uses a new type of disc called an M-Disc™. The M-Disc™ is a proprietary technology developed by Utah-based Millenniata, Inc, who has partnered with Primera in developing the Bravo Archive line. As of June 2012, the M-Disc™ is being mass produced by RiTEK.
While regular CD and DVD discs use an organic dye layer, the M-Disc™ is made of secret synthetic materials that the company says are similar to stone. This makes the discs able to withstand environments that are hostile to regular discs, such as prolonged exposure in direct sunlight.
Another unique aspect of the M-Disc™ is that it uses a much more powerful laser than the ones found in typical CD/DVD duplicators and burners. Millenniata claims that this method of recording information produces sharper pits and grooves in the data layer, which will not be susceptible to degradation.
While it requires a special drive to record the information, the M-Disc™ media can be played back on nearly every standard DVD drive, video player, or computer. The discs are available with or without a printable surface, depending on the user's needs.
This new partnership between Primera Technology and Millenniata could mean big things for the archival storage industry. The companies claim that based on laboratory testing, these new discs are projected to last for up to 1,000 years. That's a long time!
The Bravo SE Archive Publisher has an MSRP of $2,295 for the 20-disc version and $5,295 for the 100-disc Pro Xi2 version. The M-Disc™ media is expected to sell for around $23 per disc at first.
While it remains to be seen if the M-Disc™ will catch on with end-users, it's certainly an interesting approach to long-term data storage, and one that we'll be keeping an eye on! For more great disc printers and publishers from Primera, please check out The Primera Store by CDROM2GO.
Update: The Bravo SE Archive Publisher has been discontinued as of 2013.