The Guide to Do-It-Yourself CD Printing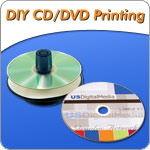 When professional CD and DVD producers need to print on discs, they use an offset or silkscreen printing machine to print hundreds of discs an hour. However, there are several ways you can make professional looking discs at your home or business without a big investment in specialized equipment.
Do-It-Yourself CD/DVD Labels
The fastest and easiest way to get your artwork from the computer screen to a disc is by printing your own CD/DVD labels. All you have to do is load a package of labels in your printer's paper tray, print your artwork, and apply!
CDROM2GO carries a huge selection of CD/DVD labels to fit every type of disc. Choose from full size, mini, and even business-card size CD labels. We carry both gloss and matte finish labels. The difference is that gloss labels look like a photograph while the matte finish are not as shiny. Finally, our selection of CD label applicators can help you apply perfectly centered labels every time.
Free CD Label Design Software
The key to printing great labels is to start with great software. While there are plenty of label design programs out there, it's tough to beat DiscStudio label design software by US Digital Media. This program is available for download from CDROM2GO with NO ads or limitations. Best of all, DiscStudio includes the templates for all of CDROM2GO's labels and inserts built-in!
Inkjet CD/DVD Printing
If adhesive CD labels don't deliver the professional look your project needs, you can try direct-on-disc printing with inkjet printable CD and DVD discs. We carry a wide range of inkjet CD/DVD printers that will print directly on discs. Our most popular entry-level units are the Epson Artisan 710 printer at $199 and the Dymo DiscPainter at $269. Both of these machines print one disc at a time.
For automated disc printing, we have the Bravo SE autoprinter at $890 and the super-deluxe Bravo Pro Xi Autoprinter for $1,489. These machines will produce high-quality prints of up to 20 discs and 100 discs per run, respectively.
Thermal CD/DVD Printing
Users who need to print large quantities of photo-quality CDs and DVDs often make the switch to thermal printing. The economy of scale factor involved gives thermal printers a significantly lower cost-per-print than other types of printing. Thermal CD/DVD printers also have an exact number of prints per ribbon, unlike inkjet printers which are variable depending on artwork usage.
LightScribe Disc Printing
One of the newest ways to print on CD and DVD discs is with a LightScribe tower duplicator. This technology uses a laser to etch away at specially coated LightScribe discs to produce an image. In a way, you might think of LightScribe as "inkless printing." The fact that there are no ink cartridges or consumables other than media is extremely appealing to companies that produce their own discs in low to mid-sized volumes.
So, to wrap it up, it is not necessary to spend a fortune on industrial-grade equipment to create your own discs. Between labels, inkjet printing, thermal printing, and LightScribe, there are a number of options available to home and business users for printing their own custom CD and DVD discs. It all boils down to picking the right method for your needs!
Of course if you have any questions or concerns about the equipment mentioned in the article above or if you'd like to talk to a real person to get some clarification, place do not hesitate to call us (toll-free) at 877-992-3766.