Taiyo Yuden Media Renamed JVC Advanced Media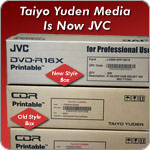 Late last year, I reported on Taiyo Yuden's acquisition of a controlling stake in JVC's optical media division. The big surprise came when Taiyo Yuden announced that all of its media sold around the world would be transitioning to a new name: JVC Advanced Media. This is because Taiyo Yuden also purchased the rights to the JVC name, which it plans on maximizing across its entire line of optical media products.
While this sounds like a dramatic change for the recordable media industry, there will not be much of a difference for die-hard Taiyo Yuden fans when all is said and done. Aside from the manufacturer part number and the name on the box, nothing else is changing.
Customers who have purchased blank Taiyo Yuden CD/DVD media in the past will still be able to purchase the same high-quality discs they have come to love. The product offerings and availability are not expected to change under the JVC Advanced Media name.
All of Taiyo Yuden's blank CD and DVD discs will continue to be produced at their manufacturing facilities in Japan to ensure the highest quality standards for their products.
The Optical Archive blog has posted a table of the old Taiyo Yuden part numbers and the new JVC part numbers for blank recordable CD and DVD discs. The list includes media with print surfaces such as shiny silver, inkjet printable, thermal printable, and WaterShield discs.
When the transition was announced last November, a timeframe of three to six months was given for the newly branded boxes to make their way into the open marketplace. Here we are five months later and the new JVC-branded boxes have started arriving at our main warehouse, right on schedule.
The picture above illustrates the differences between an old-style box of CD-R media and a new-style box of DVD-R media. While the box has a slightly different appearance, we really want to emphasize that the discs inside are the same great discs they have always been.
Taiyo Yuden established itself as an industry leader over two decades ago when they developed the first recordable CD discs. The key to the unsurpassed quality of their CD and DVD media is their patented "super-cyanine" dye formula that comprises the data layer of each disc.
We are not exactly sure what motivated Taiyo Yuden to discard their highly respected name in favor of the JVC brand, but we are certain that as they expand into new markets, customers around the world will be very impressed with the quality of these discs, no matter what they are called!