The Quick and Easy Guide to Blu-ray Duplication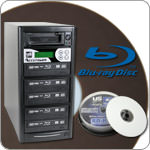 For years, recordable CD and DVD discs have been the industry standard for data storage and distribution. Recordable Blu-ray discs are quickly becoming the new standard as prices continue to drop on Blu-ray recorders and players. So what do you need to get started duplicating your own Blu-ray discs? Well that's exactly what I hope to cover in this quick and easy guide to Blu-ray duplication!
Step 1: The first thing you will need is some kind of hardware for recording Blu-ray discs. A great way to get started is to add an internal or external Blu-ray recorder to your home computer. A brand-name burner can be purchased for around $100 to $200 dollars.
For copying Blu-ray discs in high volumes, a stand-alone Blu-ray duplicator such as the Accutower Blu is a great choice. The Blu-ray duplicators at CDROM2GO range from 1 to 11 drives, so there's sure to be one that meets your needs without going over budget. Throughput depends on the size of the master and the quality of the blank discs, but the Accutower Blu with its 6X SATA drives can typically record a 25GB Blu-ray disc in about 20 minutes.
Step 2: Once you have a the hardware, you will need some blank discs to record on. Prices for 25 GB recordable Blu-ray discs have fallen from over $25 dollars per disc a few years ago to less than $3 per disc today. Many retailers carry blank BD-R discs with different top surfaces including white inkjet printable and shiny silver. A package of white inkjet hub printable BD-R discs will set you back about $30 dollars for 10 discs.
That price may sound a little steep when compared with CD and DVD media, but let me assure you that this is a good deal for the amount of storage you get. A mere 25 pack of Blu-ray discs can store 625 gigabytes of data; to buy a hard drive that same size would cost about $80 dollars – more than twice as much! Recordable Blu-ray discs offer tremendous value thanks to their low cost-per-gigabyte.
Step 3: Finally, you will need some original content to store on your discs. While Blu-ray discs are great for backing up large data files, their true purpose is fulfilled when they are used for authoring High Definition video projects.
A great example is a friend of mine who recently picked up a new HD video camera. He recorded a friend's wedding and edited the video on his home computer. The bride and groom were not only excited to see the video, they were blown away by the quality of the video as they watched it on their HDTV.
So there you have it! As Blu-ray prices continue to decrease, the latest and greatest optical storage format becomes accessible to more and more people. It is expected that demand for Blu-ray duplicators and media products will continue to grow during the next few years. The rise in popularity of high-definition content combined with the fact that Blu-ray discs are comparatively larger and cheaper than flash memory chips ensures that Blu-ray will become the dominant choice in optical storage in the very near future.