Microboards' QDL Series Provides Hands-Free CD/DVD Duplication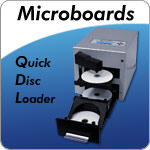 Many small and home-based businesses enjoy the flexibility and convenience that comes with doing their own duplication. This allows them to take control of their CD and DVD production in a very efficient way. While most duplicators require an operator to load and unload discs after each run, Microboards has eliminated that step with its latest creation: the QDL.
The Quick Disc Loader (or QDL for short) is a new line of autoloading CD/DVD duplicators from Microboards Technology. It features a read-only drive, a CD/DVD burner drive, and a built-in 160GB hard disk drive for archiving and storing disc images. There is also a robotic arm on the front of the machine.
This robotic arm is the key to the QDL's success. It allows the machine to load and unload discs after every run in a completely automated process! The machine does not require a person to supervise it all day long because it does all of the work for you!
All you have to do is place your original CD or DVD disc in the source drive and a stack of blanks in the input bin. When you're ready to go, hit Enter and the machine will start copying. The robot arm will load a blank disc into the burner and when finished, will pick it up and place it in the output bin. The process repeats until all of the discs are completed.
Of course, the Quick Disc Loader is good for more than just copying simple CD and DVD discs. Two other models are available, one with a LightScribe-enabled CD/DVD burner and one with a Blu-ray disc burner.
The QDL with LightScribe will record music, data, and video discs like usual. However, it can also etch LightScribe artwork on to special LightScribe-compatible CDs and DVDs. While the machine is recording the CD or DVD data, you can design the LightScribe artwork on your computer.
When the discs are finished burning, flip them over so the LightScribe print image can be etched. You can transfer the artwork file from your computer to the duplicator by burning it on a CD-R disc and placing it in the reader drive. The QDL will then load and print the entire stack of discs for a finished product that's sure to impress!
For an automated Blu-ray recorder that won't wipe out your piggy bank, the QDL Blu-ray duplicator is the answer! At around thousand bucks, it's the most affordable autoloading Blu-ray copier on the market today. Even with the high-speed 8X recorder, it can take 20 minutes or more to burn a large 25GB or 50GB BD-R disc. For this reason, it is extremely convenient to have a machine that runs unattended so you don't have to check in on it throughout the day to load more discs.
The Microboards QDL family of duplicators provide simplicity and convenience at a price that nearly everyone can afford. To learn more or to place an order, please visit The Microboards Technology Store at CDROM2GO today!