Microboards CopyWriter Pro Duplicators Review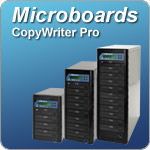 Microboards has just launched a new line of stand-alone DVD duplicator towers called CopyWriter Pro. These are the latest and greatest tower duplicators that Microboards has to offer, and we have taken the time to put them through their paces and see what they can really do. So without further ado, I present to you my review of the Microboards CopyWriter Pro family of duplicators.
I say family because there are three different types of towers, and each one is available in a variety of sizes. You can choose a standard CD/DVD tower, a CD/DVD tower with LightScribe capabilities, or a Blu-ray tower that also does CD and DVD discs.
Let's start by taking a look at the standard Microboards CopyWriter Pro towers. The first thing that grabs my attention about these machines is the 22X write speed for DVD recording. That's pretty darn fast! CD record speeds are also good, topping out at 48X. You can choose from a 3, 5, 7, or 10-drive tower to best fit your needs.
The CopyWriter Pro duplicators feature a large, bright LCD screen on the front panel. The menu was easy to use and was packed full of more features and options than I will probably ever use. This machine has a built-in 250GB hard drive and the ability to make custom audio CDs from multiple sources, which I thought was pretty cool.
The next step up from the CopyWriter Pro is the Microboards CopyWriter Pro with LightScribe duplicator. This machine includes everything the standard CopyWriter Pro tower does plus the ability to record LightScribe disc artwork. What you do is create the design on your computer, burn it to a CD-R disc, load the disc and the blank LightScribe discs into the tower, and the machine will produce a set of perfect copies in a few minutes' time.
If you plan on using LightScribe to etch your discs, this is the machine to get. If you already have an inkjet or thermal disc printer or if you're not absolutely sure that you need LightScribe, I would recommend that you save a few bucks and go with the standard CopyWriter Pro tower mentioned above.
Finally, I'd like to talk about the Microboards CopyWriter Pro Blu-ray duplicators. These towers are advertised as an all-in-one solution for burning CD, DVD, and Blu-ray discs. They feature an extra-large 500GB hard drive for storing those hi-def master discs and are available with your choice of 1, 4, 7, or 10 burner drives.
Not only can the CopyWriter Pro Blu towers record BD-R discs at 8X, they also record DVD-R discs at 16X and CD-R discs at 32X. They feature the same easy-to-use controller and reliable drives that are found in the rest of the CopyWriter Pro line of towers.
Overall, I think the Microboards CopyWriter Pro towers are excellent machines. I really like that you can choose the type of tower you need and then the size. It's great that users are not stuck with a certain size tower just to get LightScribe or Blu-ray functionality.
One area where I think these Microboards towers really shine is their two year factory warranty! This is a very generous warranty period that other duplicators simply do not have.
One way that I think that Microboards could improve their line of duplicators would be to add a larger hard drive to the Blu-ray towers. If users are burning 25GB Blu-ray discs, that hard drive will only be able to hold about 20 masters before filling up. If you're not burning a lot of Blu-ray discs yet, then this won't be an issue for you.
All things considered, I think that the CopyWriter Pro machines are a good buy. They offer a whole lot of functionality at a great price and they are backed by one of the best warranties in the industry. For more information and pricing about the CopyWriter Pro series of towers, please visit Microboards Store at CDROM2GO.