Epson Discproducer Adds Support for Microsoft's Windows 7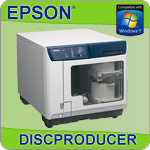 If you have been watching the headlines lately, you may have heard Microsoft's recent announcement that its Windows 7 operating system has sold over 90 million copies since it went on sale in October 2009.
This incredible figure is more than double the sales of its previous Vista operating system over the same period of time, which makes it the fastest-selling operating system the company has ever produced.
If you are one of the 90 million people already using Windows 7 or if you plan to upgrade soon, I've got good news for you! The Seiko Epson Corporation has just announced that the Epson Discproducer family of machines are now fully supported by Windows 7 (32 bit). This includes the Autoprinter, CD/DVD Publisher, Publisher Network Edition, and Publisher Security Edition.
This update for Windows 7 is included in the latest release of Epson's Total Disc Maker software version 2.5. It covers the following versions of Windows 7: Home Premium, Business, Enterprise, and Ultimate. No announcements have been made so far regarding compatibility for 64-bit installations of Windows 7 and Windows Vista.
To download the latest version of Total Disc Maker, please visit www.EpsonExpert.com. While the software is free to download, registration is required to access the files.
We will keep you informed about the Epson DiscProducer as more information becomes available. For a limited time only, all customers who order an Epson DiscProducer CD/DVD Publisher through CDROM2GO will receive a free box of 600 CD-R discs or 500 DVD-R discs at no additional charge.