What's New with the Epson Artisan 710 Printer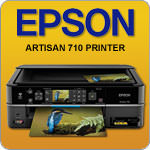 It was almost exactly a year ago that I wrote about the Artisan 700 printer from Epson. Its impressive print quality and abundance of features set a new standard of quality in its class. Today I am going to talk about the replacement for the 700: the Epson Artisan 710 printer.
The original Artisan 700 lived up to its name as a master of its trade. As a printer, it was able to crank out high quality documents, photos, and of course, print on CD and DVD discs using the built-in tray. The 4800 DPI print head has been carried over to the Artisan 710, which means that users will enjoy the same vibrant colors and crisp text as with the previous model.
Many other features of the 700 have been carried over as well. These include the 2.5-inch LCD screen for previewing prints, the built-in memory card reader, and a color flatbed scanner for scanning photos and documents.
Setting up the Artisan 710 is a snap thanks to its built in wireless network adapter. It allows you to easily connect the printer to a wireless network – no cables or wires are needed! This is very convenient for a home office or small business where several computers may need to share a common printer.
Another great feature of the Artisan 710 is that it uses six separate ink cartridges. This is an efficient way to print because you only need to replace the color you run out of, rather than an entire cartridge which may not be empty. Epson's Claria Hi-Definition inks provide a rich range of tones for photo printing on both photo paper and discs. The MicroPiezo nozzles produce ink drops as small as 1.5 picoliters, which provides great print quality without sucking your cartridges dry.
One of the coolest new features of the 710 is its ability to print directly from your iPhone or iPod Touch! Epson has a free app available for download in the iTunes store called "iPrint" that lets you print photos from your device without wires and without a fuss. Of course, there's also a USB port on the front of the printer for when your phone, MP3 player, or other gadget needs a recharge. They really thought of everything!
Inside the box, you'll find the printer, a set of ink cartridges, and the manual and documents. When you order an Epson Artisan 710 through CDROM2GO, we will throw in a FREE pack of printable CD discs PLUS a USB data cable, just in case you need it. That's something other stores don't do!
Overall, the Epson Artisan 710 printer takes everything great about the Artisan 700 and builds on it by adding several brilliant new features including Windows 7 certification. For great print quality at a great price, I highly recommend that you check out the Epson Artisan 710 today!