Thermal Printer Comparison: Rimage Prism vs Rimage Everest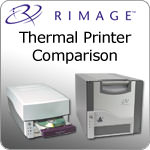 Most comparison articles focus on the differences between two products from competing manufacturers. Today, we're going to switch it up a bit by looking at two different thermal printers from the same company!
The Rimage Corporation produces a variety of thermal disc printers including the reliable Prism and the best-selling Everest III. Both of these machines are designed to print on CD and DVD discs, but which one is the better deal? To find out, let's look at each printer in depth.

The Prism III thermal disc printer uses a monochromatic ribbon to print text and simple logos directly on discs. Users can choose from black, blue, red, or green ribbons – but you can only load one ribbon at a time. The Prism is excellent for doing a high volume of discs due to the low cost-per-print of about 2 cents each.
In comparison, the Rimage Everest III uses a 3-panel CMY ribbon to print full-color artwork on CD and DVD discs. This printer is great for producing photo-quality prints at up to 160 lines per inch of resolution. The cost-per-disc is barely higher than the Prism at about 4 cents per print.
It would seem at first that the Prism is the obvious choice for frugal disc printing. However, I would argue that the Everest III printer is actually the better deal. You see, while there is a lot to like about the Prism, it costs over $1,300 dollars MORE than the Everest III! This is a significant price difference given the limited scope of the Prism's printing abilities when compared with the Everest III.
Perhaps it is because the Everest III faces competition from the TEAC P-55 thermal printer, while the Prism has no direct competitors. As the lone contender in the high-volume, low-cost category, the Prism thermal CD/DVD printer can sell for whatever price people are willing to pay.
Now, I have to wonder: why not just get an Everest III printer? Even if single-color prints are all you need to do, it would be nice to have the option to do photo quality prints if you need it.
The high price of the Prism is a very peculiar situation and I am wondering why Rimage has done this. Also, how come other manufacturers have not stepped up to produce a high-volume monochromatic thermal printer of their own? This would be the ideal time to do it!
What are your thoughts on the issue? Which printer would you choose and why? I would love to hear some feedback on this.