Multi-Disc CD Cases Provide Extra Disc Storage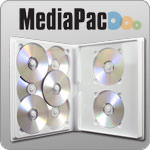 Without a doubt, the three most popular types of disc packaging are the paper sleeve, the jewel case, and the DVD case. Although these types of packaging are widely recognized, they are designed to hold just one or two discs. When you need to store lots of discs, the best solution is a multi-disc CD case from CDROM2GO!
One type of multi-disc case is the disc album from Unikeep. A Unikeep album starts with a strong plastic case that protects discs from damage in all types of environments. They are available in black and white with single and double-disc sleeves. Sleeves are stored inside the albums on 2-ring and 4-ring binders, just like the pages of a book!
It's easy to get the right storage capacity for any project with Unikeep CD/DVD albums. Add a few extra sleeves for more disc storage space, or remove a few to get the capacity just right. It's no trouble at all thanks to the easy snap-lock design of the Unikeep album. These are great for projects ranging between 5 and 40 discs.
For a real high-capacity solution, check out the 3-ring CD/DVD binders by Unikeep! Store up to 8 full-size discs per sheet with these 2×2 album inserts. Unikeep binders are available with your choice of half-inch, one inch, or one-and-a-half inch spines. Larger binders have space for storing additional sheets and therefore more discs.
Unikeep CD/DVD binders are a great way to store lots of discs, such as an ongoing series of live audio sermons, computer backups, client discs, and more! With enough sheets, it is possible to store up to 60 discs in a single binder.
Another type of multi-disc packaging is the MediaPac case. Although they are not as well known as jewel cases and DVD cases, they are perfect for storing large sets of discs! A MediaPac CD case from USDM can store up to 12 full-size discs in specially molded cases that look very professional.
A special type of MediaPac case is important because of its unique size, which is large enough to accommodate a full 8.5″ x 11″ sheet of paper in its specially designed "Literature Well." This case is available with a 1 to 8 disc capacity and is perfect for enclosing full-sheet catalogs, flyers, brochures, and other large printed materials.
MediaPac cases with the Literature Well are excellent for distributing seminars, product info kits, annual reports, investor information kits, and other situations where a professional, retail-ready appearance is desired.
For all of your multi-disc packaging needs, check out the full line of Unikeep albums, Unikeep binders, and MediaPac cases at CDROM2GO!