Express Yourself with Free CD Label Design Tools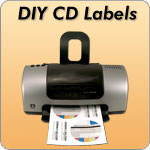 CDROM2GO is proud to offer one of the largest selections of CD/DVD disc printers in the industry. We carry everything from single-disc units to high-capacity autoloaders. While disc printers have advanced greatly and prices have come down over the past few years, many people are comfortable sticking with good old CD labels.
It's easy to see why people love CD labels so much! First, they are a very affordable way to customize a disc. Second, there are labels for every type of disc including business card and mini CDs. Finally, labels work with nearly every desktop printer – no special hardware is required!
CDROM2GO carries a huge selection of blank printable CD labels at great prices. Start by choosing the type of label you need: full size, mini, or business card. Next, choose a glossy or matte paper finish depending on how you want your label to look. Finally, carefully inspect the description to make sure it contains the right number of labels you will need.
When it comes time to create you artwork, CDROM2GO offers a variety of ways to bring your ideas to life! One way is to download our free CD label templates, which are available for every label and insert we carry.
Take our Full Size 22mm CD/DVD labels for example. These labels are one of the most popular labels we carry because they extend the printable area all the way to the center hole of the disc. You can download the design templates for them directly from the product page.
The .ZIP file contains ready-to-go templates for popular applications including Microsoft Word and Adobe Photoshop as well as the measurements for creating your own template! We also maintain a complete list of our free CD/DVD label design templates for easy access.
But what if you do not have Photoshop and still need to make CD labels? Not to worry! Our DiscStudio CD Labeling Software by USDM has got you covered! This program is available as a free download and includes templates for all of the labels and inserts that CDROM2GO carries!
With DiscStudio, you can import text, graphics, and photos into your designs. It is easy to print on labels, inserts, and more with DiscStudio at your command! The software makes it easy to print sheets of labels quickly.
Finally, you can apply the labels to your discs using one of our CD label applicator kits. Most kits include everything you need such as blank discs, labels, sleeves, plus the software and the applicator itself.
The labels, applicator kits, design software, and free templates are just some of the many tools CDROM2GO offers to those looking to express themselves though creative designs. When price and simplicity are a concern, there's simply no better choice than a good old fashioned CD label!