What You Need to Know About Blu-ray 3D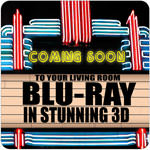 Have you ever wished you could enjoy the experience of a 3D movie in the comfort of your own home? Well thanks to the new Blu-ray 3D technology being developed by the Blu-ray Disc Association, that may soon be a reality!
New Technologies
On December 17th, 2009, the Blu-ray Disc Association announced that it has completed the final draft of the new Blu-ray 3D specifications. This set of technical instructions helps hardware manufacturers create Blu-ray 3D players that are compatible with the new format.

The key to 3D Blu-ray is a new video compressor called Multiview Video Coding (MVC). This technology displays two separate 1080p frames (one for each of the viewer's eyes) that produces a full stereoscopic effect. A 3D-compatible HDTV and a pair of 3D glasses are also required in order to enjoy 3D movies at home.
Blu-ray for Consumers
Last week, electronics manufacturers including Sony and Panasonic eagerly showed off a selection of pre-production Blu-ray 3D players at the Consumer Electronics Show (CES) in Las Vegas. Booths for both companies featured demonstrations of Blu-ray 3D movies which wowed attendees with their picture clarity and stunning level of realism.
Of course, Blu-ray 3D will not be confined to just the living room! Companies such as AMD and CyberLink are working hard to bring Blu-ray 3D to the personal computer market as quickly as possible. Both companies also exhibited Blu-ray 3D playback at CES with impressive results.
Finally, Sony has announced that Blu-ray 3D will be available to PlayStation 3 users via a firmware upgrade later this year. The PlayStation 3 is the only video game system that is already compatible with standard Blu-ray discs right out of the box.
Blu-ray for Producers
If you work in the broadcast, film, or video production industry, it is important to have a reliable source for equipment such as Blu-ray duplicators. With over 10 years in the CD/DVD duplication industry, CDROM2GO has the experience and the expertise you can depend on.
CDROM2GO's line of Accutower Blu-ray duplicators starts at just $999 for a 2-drive unit. Towers with 3, 5, 7, 10, and 11 drives are also available for starting a DIY Blu-ray duplication service.
With a standalone duplicator tower, users can make copies of Blu-ray, DVD, and CD discs quickly and easily without using a computer or software program. Simply insert the original master disc and the blank recordable Blu-ray media and the tower will copy the discs entirely with no loss in quality.
When it comes to Blu-ray packaging, CDROM2GO has got you covered there as well! They carry Blu-ray cases with or without the logo in any quantity you need! Their lightweight thin Blu-ray case is excellent for sending through the mail, while the double Blu-ray case offers twice the storage capacity of a standard Blu-ray case. For multiple disc sets, check out the new multi-disc Blu-ray cases which feature a gorgeous transparent blue color and room for up to six discs!
Final Thoughts
It is easy to see that Blu-ray will continue to gain market share well into the foreseeable future, especially as new features such as 3D become available. The amazing flexibility of the Blu-ray format means it will be available on TVs, computers, and video game consoles everywhere. With so many different ways to enjoy high-definition video, content producers need to be ready for the increased demand for Blu-ray content over the coming months.