Multiply Your Disc Storage with Multi-Disc DVD Cases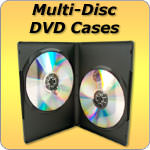 There is no doubt that CD and DVD discs can store a lot of information, but what do you do when one disc just isn't enough? For DVD videos, audio books, and other extended-length projects, the easiest solution is the multi-disc DVD case. This marvel of the CD/DVD packaging world comes in a variety of styles and capacities. So which type of multi-DVD case is right for you?
The double disc DVD case is by far the most popular type of multi-disc DVD case. It's also my favorite, and I'll tell you why. I admire this case because it is a brilliant idea: it has the same outer dimensions as a standard single DVD case and yet holds twice as many discs!

Imagine for a minute that you have a DVD of a corporate event or family reunion that spans two discs. Rather than go to the trouble and expense of using a separate DVD case for each disc, you could use a dual DVD case and store both discs in the same package! This is not only convenient, but it saves shelf space and shipping costs if you plan to distribute your discs by mail.
CDROM2GO carries a lot of different types of double DVD cases. Choose from cases with the binder clips on the inside cover or on the inside spine. You can also choose thin double DVD cases in black or clear, whichever you prefer.
What do you do when you need to store three or more DVD discs in the same case? It's easy with a multiple DVD case from CDROM2GO! Multi-disc DVD cases from USDM are available in 3, 4, 5, and 6 disc capacities. These are great for backup, archival, and other large projects. Best of all, these cases are compatible with regular 14mm DVD case inserts!
Another option for six-disc storage are the Stacker DVD cases from USDM. The unique thing about these cases is the large center hub with an optional disc locking mechanism to secure the discs in place during transit. Stacker cases feature a 1″ wide spine and have a commanding presence on the shelf, which is great for projects that stand out from the crowd.
Beyond six discs, your DVD packaging choices start to get serious! USDM carries 10-disc and 12-disc DVD cases that store discs securely on swinging arms, much like the pages of a book! These cases are very useful for storing and retrieving discs that are in sequential order. Past this point, it may be time to look into Cake Boxes and Spindles for storing your discs.
Whether you need to store two or twelve DVDs, CDROM2GO has got a large selection of multiple-disc DVD cases to fit your needs! For the best prices on double, thin, Stacker, and other multi-DVD cases, head over to CDROM2GO.com today. It's easy to see how the savings multiply when you choose multi-disc DVD cases!