The Epson Discproducer Autoprinter Has Arrived!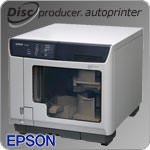 It was almost a year ago that Epson made a surprise entrance into the disc publishing market with its show-stopping Discproducer Publisher. We've covered it extensively here at CDROM2GO, and it's no secret that we're fans of the Discproducer platform. We love its quiet operation, reliable robotics, and efficient six-color ink cartridge system.
The Discproducer was launched as an all-in-one disc publisher unit, which means it has the ability to both print and burn CD and DVD discs. Now, Epson has released a new print-only version of the Discproducer known as the "Discproducer Autoprinter PP-100AP."

The Discproducer Autoprinter is perfect for companies and organizations that do not need an all-in-one unit. If you already use a stand-alone duplicator for copying CD, DVD, or Blu-ray Discs, the Discproducer Autoprinter can help you finish the job by custom-printing your own discs.
With a total capacity of 100 discs, the Epson Discproducer Autoprinter is perfect for mid- to high-level production environments such as churches, schools, software companies, musicians and video producers, and many other industries.
On the inside, the machine features a high resolution inkjet CD/DVD printer that can crank out up to 95 discs per hour! A robotic picking arm and Epson's AcuGrip technology work together to load and unload discs automatically without stopping or jamming. This reliable system can run on its own, which leaves the operator free to do other tasks while the machine prints.
Another key to the Autoprinter's efficiency is its unique six-cartridge printing system. No other automated disc printer on the market has a separate ink cartridge for each color. This is a brilliant design because it means you only need to replace the color you're out of. This smart design pays for itself after just a few jobs!
From top to bottom, the Discproducer Autoprinter is a solid unit that you can depend on for CD/DVD disc printing. Its compact shape fits easily on a desk or countertop and its sturdy construction allows you to stack multiple units for extra productivity.
Please visit CDROM2GO.com for detailed specifications, photos, and pricing information on the Epson Discproducer Autoprinter.
Update: Check out the latest press release from CDROM2GO announcing the release of the Discproducer Autoprinter.