Download Our DiscStudio Design Software for Free!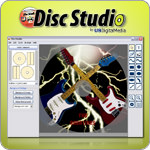 If there's one thing our customers love, it's free stuff. CDROM2GO works hard to make sure we supply our valued customers with as much free stuff as possible. From free ground shipping on over 150 products to free lifetime tech support on duplication equipment, we love to give it away gratis. Today, we're proud to announce our biggest freebie ever: our DiscStudio labeling software is now available to all users for free!
DiscStudio is a software program that allows users to design and print their own custom CD Labels and DVD labels. The software comes with templates for over a dozen other types of printable materials including jewel case inserts and DVD case inserts. It is also compatible with labels from major brand-name manufacturers.

Better yet, DiscStudio includes a library of over 1,000 background images and clip art files to help get your design started. A full suite of tools are available for positioning shapes, text, and other effects on the canvas.
DiscStudio is great for musicians, video producers, churches, small businesses, schools, home users, and many other industries. All you need to get started is a PC running Windows 2000, XP, Vista, or 7.
In spite of what you may have heard about free lunches, DiscStudio is absolutely 100% free to download and use. There are no ads and registration is not required to use the software. Find out just how easy it is to use by downloading a free, fully-functional copy that never expires!
Visit our DiscStudio download page to get your free copy of our software today!