Wrap It Up With CD/DVD Case Wrappers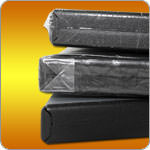 One of the most popular reasons for having a CD or DVD duplicated is so it can be distributed to a large audience. If there's one thing customers in every industry love, it's getting their hands on complimentary demonstration videos, independent films, audio CDs, and other multimedia content. So how do you make sure that your custom CD/DVD project looks as professional as possible? The answer is clear: make sure to shrink wrap or overwrap your discs.
So what is the difference between shrink wrap and overwrap? I'm glad you asked. Shrink wrap is a special type of plastic that is sensitive to heat. It comes on a very long roll and can be used to wrap a variety of products such as CD jewel cases and DVD cases. With the USDM Shrinkwrap Kit, the shrink wrap is sealed shut with a heated wire. From there, a quick blast from a heat gun shrinks the plastic around the case nice and tight.
Overwrapping is another process that can improve the look of a DVD or CD case. With overwrap, the cases are placed into special pre-cut plastic bags. The bags then pass through a machine that neatly folds the edges of the bag and then applies heat to seal them together.
So what can shrink wrap and overwrap do for you? First, they give your CD or DVD case a neat, professional appearance that looks just like a disc you would find at the store. Second, overwrap and shrink wrap provide another layer of protection against scratched and damaged cases. This is particularly useful if you send your discs in envelopes through the mail.
There are a couple of different ways to get your DVD/CD cases packaged in plastic. The first way is to purchase a shrink wrap machine and do each disc individually. This is a very affordable solution that works great for shrink wrapping jewel cases and DVD cases in small quantities.
Another option is to purchase an overwrap machine, which is also a do-it-yourself process. CDROM2GO carries overwrapping machines from Recordex along with a full selection of wrapping sheets. Because the machines are specially made for one type of case, you will need to choose a full size DVD case overwrapper or a slim DVD case one. CD overwrappers are only available in standard full-size versions.
Finally, if a dedicated shrink wrap or overwrap machine is more than you need, you can always let the experts at CDROM2GO handle it for you! Our shrink wrap and overwrap services are available as an option with all of our CD/DVD duplication and replication orders.
CDROM2GO makes it easy to get the great look and protection of plastic wrapped cases without the trouble of doing it yourself. For more information, please visit our selection of Shrink Wrap and Overwrap equipment or call one of our friendly sales associates (toll-free) at 877-992-3766. And that's a wrap!