What's the Difference Between Duplication and Replication?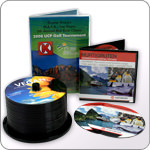 Have you ever wondered about the difference between duplication and replication? According to the dictionary, duplication and replication are synonyms of each other. In the real world though, these words are used to describe two entirely different processes for making copies of optical media. Today I am going to explain the two processes in detail to help you understand which process is best for your needs.
Duplication Explained
Duplication starts with an original disc from which the copies will be made and blank CD, DVD, or Blu-ray media. The original "master" disc is placed in a computer or DVD duplicator tower and the information is read to a hard drive or straight to the destination or "source" drive.

A recording drive or "burner" drive uses a laser to burn pits into the dye layer of a blank disc. These pits are the actual bits of data recorded to the disc. Each finished copy is identical to the master disc in every way, that is, there is no difference in quality between the master and the copy.
Duplicating a CD disc takes about 4 to 8 minutes per disc depending on the content, the speed of the recorder, and the speed of the blank discs. DVD discs take between 6 and 10 minutes to duplicate, though dual-layer DVDs may take longer. This is why DVD duplicator towers are excellent for making copies in high volumes. An Accutower DVD duplicator can produce 11 copies of a disc in the same amount of time it takes a personal computer to produce one copy.

Duplication has several advantages over the replication process. First, every duplication order placed through CDROM2GO includes their exclusive PhotoPro disc printing at no charge! PhotoPro is a state-of-the-art print process that produces sharp text and photo quality images in full color. PhotoPro uses precise amounts of heat and pressure to transfer your image from a specialized film to your discs. Additional print processes are also available, please call for details.
Another big advantage of CDROM2GO's CD/DVD duplication service is speed. CD, DVD, and Blu-ray discs can be produced much more quickly than replicated discs. CDROM2GO's standard turn times are just 3-5 business days for duplicated discs. Express Service orders can be completed in as little as 24 hours! Because of its speed and efficiency, duplication is the most practical solution for quantities of 2,000 discs or less.
Replication Explained
The replication process also produces identical copies of an original master disc, but it does so in an entirely different way. With replication, the information is not burned onto pre-existing discs. Rather, the disc is created with the information on it in a process known as "stamping" or "pressing."
In order to do this, a glass master must first be created. This high quality original disc will be used to stamp out thousands of identical copies. An injection-molding machine injects liquid polycarbonate plastic onto the stamper which uses heat and pressure to solidify the plastic into an identical copy of the master. The information is literally molded into the plastic when the disc is created. This process can be used to create replicated CD, DVD, and Blu-ray discs.

One major difference between replicated and duplicated discs is that there is no discoloration on the data side of the disc. The injection molding process creates a uniform silver color on the bottom of the disc that is very pleasing to the eye. Replicated discs leave the factory looking just like the ones you can buy from a retail store.
Another difference is that replicated discs are available with your choice of offset disc printing or silkscreen disc printing. Silkscreen printing is great for solid colors and text while offset printing is great for photos and raster artwork.
Finally, CDROM2GO's CD/DVD replication service has a lower cost per disc than duplication in high volumes. When you need to produce 2,000 to one million discs or more, replication is the most affordable way to go.
Conclusion
CDROM2GO offers both CD/DVD/BD duplication services and CD/DVD/BD replication services. Whether you need 100 discs or 100,000 discs, the experts at CDROM2GO can help you get the job done! If you still have questions about duplication and replication, please feel free to give one of our knowledgeable sales associates a call at 877-992-3766 today! You can also use our Online Inquiry Form to get a fast quote for your custom project from CDROM2GO, Your Duplication Experts!