How To Safely Destroy CD/DVD Discs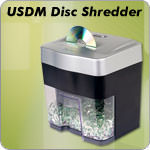 Recordable CD and DVD discs are one of the easiest and most affordable ways to back up information. They are great for storing everything from business records to legal documents and even personal information such as medical and tax records. But when backup discs become outdated, how do you make sure that the contents do not fall into the wrong hands? Today, we're going to look at some ways to safely destroy CD/DVD discs and the information contained on them.

I emphasized the word safely because there are lots of dangerous ways to destroy a disc as well. A quick Internet search yields lots of dangerous ways to destroy CDs such as placing a disc in a microwave oven, shooting it, drilling through it, and even exploding the disc by spinning it at very high speeds! I do not recommend these methods or anything else that could cause fragments of polycarbonate plastic to go flying through the air and injure someone.
Fortunately, there are plenty of ways to destroy your old CD and DVD discs without endangering yourself or others. One trick is to wrap the disc in an old shirt and simply snap it in half. This does not require any special tools, but it can get messy if you have a lot of discs to destroy.
Another method is to use a DVD shredder such as the ones made by Data Devices International. Their DX-CD2 machine is approved by both the National Security Agency (NSA) and the Department of Defense (DoD), so you know it's good! This video of the DX-CD2 shredder shows it to be remarkably quick and efficient, but at $1,700 dollars it seems better suited for government contractors than for small businesses and home users.
Perhaps the best way to safely destroy your CD/DVD discs is with the VS007 Crosscut Disc Shredder from US Digital Media. This compact unit completely destroys CD and DVD discs by forcing them through a series of sharp blades. It works just like a regular paper shredder by grinding the disc into hundreds of tiny pieces which cannot be reassembled.
At just $60 dollars, the VS007 Crosscut CD/DVD Shredder is a very affordable option for destroying CD/DVD discs. For the price of one DX-CD2, you could buy 28 of the USDM disc shredders! Also, using the VS007 won't scare your neighbors or your co-workers like shooting or exploding a disc. It may not be as fun as some of the other options, but it is easier to clean up and it comes with a standard 1-year limited warranty.
When you need to safely destroy a CD or DVD disc, a crosscut shredder offers the most bang for your buck! Check out the VS007 Disc Shredder at CDROM2GO.com today for more details and information.