How to Protect Your CD/DVD Discs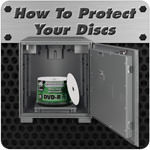 Last week I wrote about some different ways to destroy CD/DVD discs that are no longer needed. The opposite of disc destruction is disc protection. Today, we're going to look at some ways to protect your important discs from harm.
The best way to keep discs from getting damaged is by always handling the discs properly. Make sure to always grip the disc from the outer edges and through the center hole. Avoid touching the top and bottom of the disc whenever possible. CD and DVD discs are sensitive to ultraviolet (UV) light, so don't leave them in direct sunlight (such as on the dashboard of a car).

Another good way to keep CDs and DVDs protected is with proper packaging. While paper CD sleeves are an affordable means of preventing scratches, they do not offer the same level of protection as a plastic case. A plastic CD case will not only store a disc securely, it will also protect against dirt, scratches, and being dropped.
Cases such as SlimPaks and TrimPaks, CD ClamShells, and VarioPacs are just a few types of plastic CD/DVD cases available to protect your important discs. CDROM2GO stocks these and other plastic storage cases in a variety of colors.
For high volume disc storage, consider CD cake boxes. These stackable and versatile cases are available in 10, 25, 50, and 100 count sizes. Cake boxes are an efficient way to store discs that are not used every day such as backup discs and archived materials. They are also great for storing multiple copies of the same disc in a very compact format.
But what do you do when it comes to multiple disc sets or discs that need to be stored in chronological order? CD albums are a great way to keep your discs organized from start to finish. CD albums can be used for storing discs in a case that's not much larger than a regular jewel case.
CD binders are ideal for high-volume situations where more than 10 discs need to be stored safely. It is easy to add and remove pages with a binder, thanks to their handy 3-ring design. Simply pop open the rings, add or remove the sheet, and snap the rings closed again! Many of the binder pages available hold four discs per side, for a total of eight discs per sheet.
When it comes to protecting discs as they go through the mail, nothing beats the safety and security of a bubble CD/DVD mailer. A 6″x9″ mailer is the perfect size for sending a full size DVD case or CD jewel cases through the mail. The bubble wrap construction provides a cushioning layer for the contents so they will not get damaged or broken. Best of all, the water-resistant polyvinyl exterior will keep your discs nice and dry, even in wet conditions.
Well that about wraps it up for CD and DVD protection tips! If you have any suggestions or ideas that I forgot, please post a comment and let me know!