A Quick Guide to LightScribe CD/DVD Labeling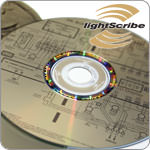 What if there were a way to transfer images and text to CD and DVD discs without using a traditional inkjet or thermal printer? Not only is it possible, it's a reality! The technology is called LightScribe, and it's changing the way that people customize their discs.
LightScribe is a technology that is found in many newer CD/DVD duplicators. Drives that support LightScribe can not only burn CDs and DVDs like usual, but they can also etch detailed patterns on to the top layer of certain types of media. The slogan "Burn, Flip, Burn" sums it up nicely.

A regular DVD burner can only record data (such as video, audio, pictures, and computer files) on to the bottom side of a disc. In order to print some text or a picture on the top side of the disc, it would need to be placed in a thermal or inkjet printer. A LightScribe DVD burner can record both the information and the artwork from the same drive.

So what do you need to get started? First, you need a LightScribe DVD/CD duplicator such as the Accutower LS. These stand-alone duplicators are available with your choice of 1, 2, 3, 5, 7, 10, or 11 recording drives and start at just $199 dollars for the smallest model.
Next, you need some LightScribe-compatible media. Although you can use any type of blank discs for recording information, only discs with the LightScribe logo can be used for etching the artwork. This is because the discs contain a guide for the etching laser near the center hub, as well as a high-contrast gold colored coating on the surface.
Verbatim makes some very affordable LightScribe CD-R and LightScribe DVD+R discs that are LightScribe compatible. You can make as many copies of your original disc as you like using the duplicator. This is the first "Burn."
When it comes time to create your artwork, you will need the LightScribe Template Labeler software. This program is available as a free download from LightScribe.com and it includes everything you need to design a disc layout, import pictures, add custom text, and save your finished product as an .LSI file.
From here, you just need to burn the .LSI file to a disc and place it in the source drive (reader drive) of your duplicator. Take the discs you just burned in the tower and flip them over, with the information side facing up. This is the "Flip" stage of the process.
For the final "Burn," select the .LSI file and the tower will start recording! When the process is complete, the discs will eject and you are done!
It's really not that difficult to create LightScribe labels for your discs. Of course, inkjet and thermal disc printers are still the way to go for full-color, photo-quality graphics and prints that extend all the way to the center hub. Still, LightScribe is one alternative to inkjet and thermal printing that's really catching on.
LightScribe duplicators, blank CD/DVD media, and other supplies are available from online retailers such as CDROM2GO.com. Right now they are offering FREE Ground Shipping on almost all of their LightScribe stand-alone duplicators, so if you're in the market for one I would highly recommend you check them out!