10 Tips for Printing Your Own CD/DVD Discs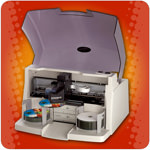 Printing your own CD and DVD discs is a great way to get a professional looking product without spending a fortune. Just follow these printing tips from CDROM2GO to make sure you get the best results with your printable CD/DVD media!
10. Choose the Correct Blank Media
When shopping for blank CD/DVD media to print on, make sure you pick the correct type for your printer. Inkjet printers such as the Primera Bravo and Epson Discproducer work only with inkjet-printable CD and DVD media. Thermal printers such as the Rimage Everest and TEAC P-55 are designed for use with thermal printable DVD and CD media. Picking the correct discs for your equipment is the first step towards great prints.

9. Choose the Right Print Surface
Both thermal and inkjet printable discs are available with a variety of print surfaces. Thermal CD/DVD discs are available in white or silver finishes depending on the look you want. Inkjet DVD and CD discs are also available in white or silver. Both types of discs also come in hub-printable versions that let you print all the way to the center hole of the disc.
8. Go Glossy with Photo Finish Media
For the absolute best in inkjet printable media, check out the line of Photo Finish CD/DVD media with Smudge Guard from US Digital Media. Both types of discs contain a special coating that not only gives discs a beautiful, high-gloss finish, but it also protects them from moisture and smudging!
7. Design Smart
How can you save money on ribbons and ink cartridges without slowing down production? Try designing artwork that uses less ink. By not covering the entire disc with a color photo, you can still create great designs and get more mileage from your thermal or inkjet printer.
6. Save Change by Changing Colors
Many disc printers use mixed-color ink cartridges. You can get the most out of them by creating variations of your artwork that use different color schemes. This is not a concern for Epson Discproducer owners because of the Discproducer's unique six-cartridge system, in which you only need to replace the color you are out of.
5. Burn Before You Print
If you use a duplicator tower to copy your discs, I would strongly recommend that you burn the information on the disc before you print on it. If a disc should fail during the burn process, that's a full discs's worth of ink wasted.
4. Adjust Your Printer Settings
Many inkjet disc printers have adjustable settings just like a regular paper printer. Check your owner's manual for information on how to adjust the quality and ink saturation settings of your machine. You may be able to reduce your ink usage with no visible difference in print quality!
3. Have Extra Supplies Ready
If you need to print a large volume of discs (150 or more), it is a good idea to make sure you have extra printer supplies on hand. The last thing you want to do is miss your deadline because you ran out of ink, ribbons, or discs. Like the boy scouts say, "Be prepared!"
2. Maintain a Positive Attitude
This is an important one. Sometimes things can go wrong when printing discs. Software issues, alignment issues, and other setbacks never happen at a good time and yes, they happen to the experts from time to time. Maintain your cool and approach the problem with an open mind.
1. Shop With CDROM2GO and Save!
One of the most enjoyable things about printing your own CD and DVD discs is the money you save by doing it yourself. CDROM2GO helps you save money because they buy in bulk and pass the savings on to you! Check out CDROM2GO for everyday low prices on printable CD and DVD media, CD/DVD disc packaging, and other supplies!
With these tips, I hope you will discover that printing your own CD/DVD discs does not have to be a chore. In fact it can be a great experience! Happy printing!