Taiyo Yuden CD/DVD Media Will Adopt JVC Name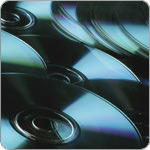 Since the very beginning, Taiyo Yuden has been at the top of the game when it comes to optical storage. Their engineers and researchers developed the first recordable compact disc back in 1988. This revolutionary technology paved the way for the DVD and Blu-ray discs we have today.
For decades, Taiyo Yuden has been recognized as the best brand of recordable media in the world. Their blank recordable CD and blank DVD media is second to none in terms of quality and performance. The secret to their success is a patented "super-cyanine" dye that is more stable and reliable than anything the competition has developed. This organic dye layer is the part that stores the information recorded by the laser.

Earlier this year, Taiyo Yuden announced its optical media division was being acquired by JVC. The specifics of the deal were finalized at the end of last month. Taiyo Yuden will continue to produce electronic components and devices, but its CD and DVD manufacturing facilities are now in the hands of JVC.
Although a schedule has not been set, Taiyo Yuden media will eventually be sold exclusively under the JVC name. CDROM2GO still has a large quantity of Taiyo Yuden media in stock and will continue to carry the same great discs under their new names.
Taiyo Yuden's current line of discs includes inkjet and thermal printable CD-R, and Watershield CD-R media. The DVD line includes inkjet printable DVD-R, thermal printable DVD-R, and Watershield DVD-R media.
Remember, the name may have changed but it is still the same great quality media! Count on CDROM2GO to keep you informed of the latest updates as they happen. In the meantime, your favorite media is still available in the Taiyo Yuden Media Store on our website! Check it out!