Get Creative with Printable DVD Case Inserts from USDM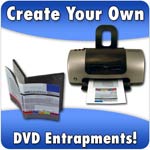 Case artwork is often the last part of a DVD project to be completed, and yet it is the first impression of your product that a customer will see. Good artwork can mean the difference between a sale and a missed opportunity, which is why it is so important to have artwork that looks attractive. A great way to get that professional look is with printable DVD case inserts from CDROM2GO!
Their selection includes full size DVD case entrapment inserts that come in three sizes: standard, slim, and quad. An entrapment is the outside cover of a DVD case that slides in behind a clear piece of plastic. Entrapments contain a front, back, and spine section that can be customized with your own text and graphics, any way you desire!

Unlike an entrapment, a DVD case insert goes inside the case when closed. Most DVD cases have clips on the spine for holding the insert securely in place. An insert can be used for printing a chapter index or table of contents. It also makes a great advertisement piece, brochure, or just about anything else you can imagine.
Of course, CDROM2GO also carries printable CD jewel case inserts and printable Blu-ray case inserts as well! All of our printable entrapments are micro-perforated for easy separation. This helps produce clean professional edges without using a paper cutter.
The entire line of printable inserts is available now from CDROM2GO! Browse their huge selection to find the perfect inserts for your DVD case or other project. Custom artwork is one of the easiest ways to enhance your project and give it that eye-catching look, so be sure to check out the printable inserts at CDROM2GO today!