Primera Expands Macintosh Compatibility with New Software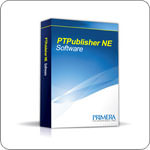 Earlier this month, Primera Technology, Inc. announced that its entire line of Bravo disc publishers is compliant with the new Windows 7 operating system. Now, Macintosh users are also hearing good news from the Minnesota-based manufacturer of CD/DVD printers. Primera has just released two major software updates for Mac users: PTPublisher and the PTBurn SDK!
PTPublisher™ is an all-in-one program that handles both burning and printing. You can use it to design your artwork and print directly on a disc with your Bravo CD/DVD printer. The interface is easy to use for both beginners and power users.

The other neat thing about PTPublisher™ is that it can also be used to create new CD and DVD projects from scratch. Whether you're recording audio, video, or data, PTPublisher™ makes it easy to get your information burned on to your discs quickly and accurately. Jump over to the Primera website to get your FREE PTPublisher download today!
The new PTBurn Software Development Kit (SDK) is also available for Macintosh users. With this kit, advanced users can set up custom actions and interfaces for their Bravo machines. Best of all, the SDK is available to developers who register with Primera at no charge!
Both programs are compatible with the latest release of OS X v10.6 "Snow Leopard." Primera have also posted updated Bravo Mac drivers for download in the Support section of their website.
With the introduction of these new software programs, Primera demonstrates its commitment to Mac users and to the development community. Please visit the Primera Technology Store for additional information, specs, and pricing on Bravo CD/DVD printers and publishers.