Primera Debuts New Line of BravoPro Xi DVD/CD Duplicators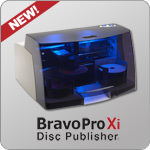 In the world of disc printers and publishers, it's hard to ignore Minnesota-based Primera Technology. Over the years, their family of Bravo disc printers and publishers has earned a reputation for reliability and performance. Primera continues this tradition of excellence with the introduction of its new BravoPro Xi series machines.
The Primera Bravo Xi family consists of five new models: the BravoPro Xi Autoprinter, the BravoPro Xi Disc Publisher, the BravoPro Xi2 Disc Publisher, the Xi Blu-ray Publisher, and the Xi2 Blu-ray Publisher. Let's take a look at each of these machines in depth to find out what makes them the best Bravos yet!

Primera BravoPro Xi AutoPrinter: This automated CD/DVD printer has a 100 disc capacity for printing your discs in high quantities. This print-only version is the perfect complement to a standalone DVD duplicator like the Accutower. With the two of them running side by side, it's a real duplication powerhouse!
BravoPro Xi Disc Publisher: Whether you have limited desk space or if you just like to keep things simple, the Bravo Xi Publisher is the all-in-one solution for CD and DVD publishing. With its 100 disc capacity and multi-format recording drive, it's everything you need to print and burn CD and DVD discs in a single machine!
BravoPro Xi2 Disc Publisher: Take your disc publishing to the next level with this two-drive CD/DVD publisher. Features a 4800-DPI disc printer and two CD/DVD burner drives for twice the productivity! The robotic arm will automatically load up to 100 discs per job hands free!
BravoPro Xi Blu-ray Publisher: Count on the BravoPro Xi to burn your Blu-ray content with both speed and accuracy. The built in inkjet printer will print artwork directly on your printable Blu-ray discs, up to 100 per batch! Best of all, the BravoPro Xi Blu-ray Publisher is backwards compatible with CD and DVD media! For the most versatile disc publisher available today, the Xi Blu-ray is all you'll ever need.
BravoPro Xi2 Blu-ray Publisher: The BravoPro Xi2 is the ultimate CD/DVD publisher. It is proof that you can have both high-volume capacity and Hi-Def, with its two Blu-ray recording drives and high-resolution inkjet disc printer. When only the best will do, the Primera BravoPro Xi2 is the biggest and the fastest publisher available.
Look for the entire BravoPro Xi line of products available from CDROM2GO! Remember, we still offer the other Bravo models including the very affordable Bravo SE and the network-capable Bravo XR series in The Primera Store! When it comes to automated disc printing and publishing, no one beats the power of Primera and CDROM2GO!