Primera Announces Support for Windows 7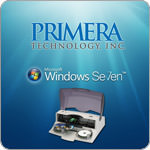 You may have heard in the news that Windows 7, the new operating system from Microsoft, was officially released for retail sale yesterday. As users begin the process of upgrading their computers or purchasing new machines over the next few years, they may be concerned about compatibility issues with their existing hardware. Well I'm glad to report that if you own a Primera Bravo inkjet printer or publisher, your can lay your worries to rest.

That's because Primera announced yesterday that its entire line of currently-available CD and DVD printers and publishers are compatible with the new Windows 7 operating system. This includes the Bravo SE, Bravo II, Bravo Pro, Bravo XR, and Bravo XRP family of products.
The updated drivers now cover Windows XP, Windows Vista, and Windows 7 in both 32-bit and 64-bit editions. If you already own a Bravo unit and have upgraded or are planning to upgrade to Windows 7, you're in luck because Primera has just posted the newest drivers for download on their website. There's even a new illustrated guide to installing the drivers for Windows 7, complete with screenshots. New units will begin shipping with the updated drivers starting October 22nd.
The Primera website also contains drivers for Apple computers, which are available in the universal binary format. These drivers are listed to be compatible with Mac OS 10.6 "Snow Leopard," which was released about two months ago.
As if that weren't enough, all Primera Bravo units purchased before the end of the year will receive a VISA gift card for up to $750 dollars with mail-in rebate. More details on the Primera rebate can be found in this previous post. Rebate Ended
Whichever computer platform you use, you can rest assured that you will enjoy the full use of your Primera hardware well into the future. The full line of Primera Bravo products including CD and DVD printers, CD and DVD publishers, and even Blu-ray publishers are available now in the Primera Store at CDROM2GO!