30 Creative Ideas for Your CD/DVD Project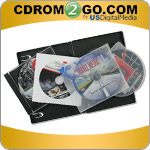 CDROM2GO offers a huge selection of CD and DVD duplication packages with some of the fastest turn times in the industry. If you can dream up a CD or DVD project, we can do it! If you need help getting started, then I recommend you check the following project ideas for some inspiration.
Here is a list of some of the projects you can do with a custom CD or DVD order:

1. Hand out a disc of information about your company at trade shows, seminars, and events.
2. Duplicate your band's album or demo with our CD duplication service packages.
3. Distribute an interactive CD-ROM to promote your college or university.
4. Mail out a CD with your company's product catalog and price lists to clients.
5. Send out an Annual Report to shareholders on a mini or business card CD.
6. Create a training DVD for employees of your organization.
7. Release your independent film project in a full DVD case with printed entrapment.
8. Put together a disc of sewing/stitching patterns that you can sell to clients.
9. Put your company's software on a PhotoPro printed installation disc.
10. Create a promotional video for your resort, bed and breakfast, or vacation destination.
11. Save paper by putting your product documentation, user manuals, and literature on CD-ROM.
12. Mass-produce a tutorial DVD that you've made for a particular software program.
13. Copy a CD slide show of a group vacation or mission trip for the group members.
14. Duplicate a DVD of a school play, talent show, band concert, or sporting event.
15. Make a sample disc of before-and-after photos for a remodeling or design company.
16. Show off the completed projects of your custom pool, home, or other construction company.
17. Release a lecture series of audio CDs as a multi-disc set.
18. Create a diagnostic/repair manual on CD that can be shipped in a cardboard mailer.
19. Use pre-printed discs for recording data such as medical images or system backups.
20. Make an unbreakable DVD disc with our Flex DVD replication service.
21. Grab your audience's attention with a CD or DVD in a unique VarioPac plastic case.
22. Reduce the environmental impact of your duplication project with a cardboard Digipak case.
23. Create a marketing disc on a miniature or business card CD/DVD.
24. Get your high-definition movie professionally copied and printed with our Blu-ray replication service.
25. Create a multimedia disc set of lectures or presentations with our MediaPac multi-disc cases.
26. Save on disc packaging costs by ordering your CD or DVD project in shrink wrapped bulk stacks.
27. Show off the talents of your choir group with a music CD inserted in a paper sleeve.
28. Produce a professional copy of an instructional video for golf, dance, or another sport.
29. Create a large number of copies of your high-definition Blu-ray content.
30. Reproduce a disc of franchise information for investors and potential clients.
This is just a small selection of the many things you can do with a promotional CD or DVD disc. Whether you sell them or give them away, a professional CD/DVD job can do a lot to help promote your business.
When you choose CDROM2GO's duplication service, you can count on our experts to listen to your needs. Give them a call today at (877) 992-3766 for more information, or visit them online at cdrom2go.com today!