7 Reasons Why Taiyo Yuden Discs Are Great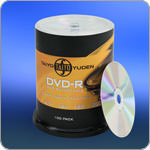 When it comes to quality recordable CD and DVD discs, Taiyo Yuden is among the best in the business. If you're not convinced that Taiyo Yuden discs are worth every penny, please take a moment to consider my list of 7 reasons why Taiyo Yuden discs are great:
7. Industry Experience
In October of 1988, Taiyo Yuden was the first company to release a blank CD-recordable disc on the consumer market. With two decades of experience in recordable media, they have plenty of knowledge to know what works and what doesn't.
6. Quality You Can Measure
Taiyo Yuden's reputation for quality is based on technical data about the storage and playback capability of its discs. Taiyo Yuden CD-R and Taiyo Yuden DVD-R discs have some of the lowest jitter and deviation ever tested. When it comes to failure rate, it's hard to beat 0.006% – the lowest rate of any manufacturer in the industry.

5. Better Products Through Chemistry
Part of what makes Taiyo Yuden brand CDs better than the competition is the composition of the recording layer. The "Super Cyanine" dye layer is highly reflective and very stable, which are two essential qualities to have in a disc. This results in discs that have improved readability on more types of hardware.
4. Preserve Your Data
Taiyo Yuden discs are excellent for archiving your critical information. The manufacturer reports that a Super Cyanine disc, when stored under proper conditions (in a climate controlled environment and away from direct sunlight) can last up to 70 years or more!
3. Wide Selection of Products
From a simple silver lacquer CD-R to an inkjet hub printable DVD-R, Taiyo Yuden has a disc of almost every type and surface. With a wide variety of recordable CD and DVD discs to choose from, there's sure to be one that meets your needs!
2. Superior Printing with WaterShield Media
WaterShield discs are a special type of inkjet printable media available only from Taiyo Yuden. Taiyo Yuden WaterShield CDs and Taiyo Yuden WaterShield DVDs contain a special coating that gives them a beautiful glossy finish that is excellent for photos! Better yet, WaterShield discs are water resistant, scratch resistant, and fade resistant.
1. The Best Discs at the Best Prices
So where can you get blank CD and DVD discs from Taiyo Yuden? From the CDROM2GO Online Store of course! They carry a huge variety of genuine Taiyo Yuden media in stock and ready to ship. Best of all, CDROM2GO carries Taiyo Yuden discs at very competitive prices, so you can feel confident that you are getting a great deal on great quality discs.
If you're still not a believer in the awesome quality of Taiyo Yuden discs, I would encourage you to pick some up today and see for yourself what the fuss is all about!