Stacker Cases: The Easy Way to Store Multi-Disc DVDs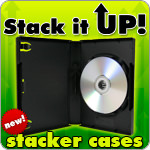 What do you do when you have a CD or DVD project that spans multiple discs? You could spend a lot of time looking at dozens of different packaging options, or you could keep it simple and go with a Stacker DVD case from USDM. Stacker cases are the easiest way to store multi-disc sets because they safely hold up to 6 CD/DVD discs in a single case.
Stacker cases are available in two varieties: one with a standard hub and the other with a Disc Lock hub. With the regular Stacker DVD case, discs are held in place by the extended center hub. The Stacker with Disc Lock hub takes it a step further by adding a bright red twist-lock mechanism. Just twist it one way to lock the discs and twist the other way to unlock them! It's a snap to use and very secure.
Every Stacker case includes a set of binder clips on the inside, which are great for holding flyers, booklets, and other printed materials. It is an ideal spot to include a index of the discs and their content for your audience. Binder clips also give you the option to secure a rebate form or special access code for online content with your projects.
On the exterior, the Stacker case features a clear vinyl sleeve for holding a printed entrapment. Here, you have plenty of room to show off your project artwork thanks to the 1-inch wide spine and large front/back areas. The Stacker is about as wide as two standard DVD cases, and yet holds more discs than a pair of double-disc DVD cases.
When it comes to multi-disc storage, nothing beats the feature-packed yet easy-to-use Stacker cases from US Digital Media! For more details, photos, or to place an order, check them out at the CDROM2GO online store today!