Professional CD/DVD Printing Methods Explained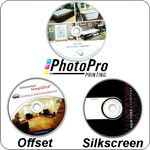 CDROM2GO offers a variety of CD/DVD disc printing services, and we understand it can be difficult to choose between them. We have created this guide to help you better understand the differences between the three major types of printing processes we offer. Believe me, even I had to do some research and talk with people in the business to fully understand the processes.
When it comes to custom printed CD and DVD discs, we can do digital, offset, and silkscreen printing directly on the disc surfaces! Each type of printing process has its advantages and disadvantages, and I believe that if you know the differences, you can pick the printing method that best fits your needs.
People often ask about offset disc printing, probably because it is the most misunderstood type of printing we offer. In a nutshell, offset printing is one of the grandfathers of the printing world, but that old man shows no signs of slowing down! In fact, offset printing is the preferred method for large quantity prints in commercial printing due to its quality and efficiency.
The offset printing process starts by splitting up the original image into 4 colors (CYMK) and placing them on plates. Each plate is then covered with a rubber mat that is attached to a cylinder. A single color image is then transferred, or offset, onto the surface of the disc as it passes by the rubber roller.
The disc will go through all 4 colors individually to produce a 175-line/inch resolution image. This creates a detailed full color image on the disc. Offset printing is best suited for high volume jobs due to the nature of the printing process and best suited for photographs or graphical elements that may have lots of color variations.
The silkscreen printing process is similar to offset, but with some variations. Silkscreen printing is best suited for high quality text and simple illustrations. The silkscreen process begins by creating a very fine nylon mesh that is stretched over a frame that forms the screen. Next, ink is squeezed through the screen onto the disc using a squeegee. This process is repeated multiple times, once for each color. Once all of the stages are complete, you have a disc that comes out looking glossy and professional. The only major downside to the silkscreen printing process is its inability to print complex images or text.
Finally, we come to my personal favorite choice for disc printing: digital printing. Digital printing has several advantages over the other two printing methods. First, there are no plates or rubber mats in this process, which allows for each print to be different without having to change anything with the printer itself. The second advantage to digital prints is that they are very cost effective at low volumes. Not every printing job is going to be a multi thousand-unit job, sometimes you only need a couple hundred prints and that is where digital prints really shine.
If you are looking into digital-printed discs, I would recommend that you choose Digital PhotoPro printing from CDROM2GO. There are several good reasons why I highly recommend this type of digital printing.
First, CDROM2GO will upgrade any job to PhotoPro printing at no additional cost! Second, PhotoPro printing provides the highest quality prints possible, especially if you put the prints onto a high quality DVD/CD Smudge Guard disc. This combination will result in a disc that looks as good as or better than other disc printing methods.
Finally, I would choose PhotoPro printing above any other because of the incredible detail. Offset and silkscreen prints are limited by the machines on which they are made, but this is not the case with digital printing. Digital printing has almost no limitations on artwork, and it's the only way to go for a true photo-quality print in glossy, full-color! If you do not believe me, simply call CDROM2GO and request a PhotoPro sample and see the difference for yourself.
I hope that this will help you in choosing which type of print method you want for your next print job. If you have any additional questions about disc printing, please contact one of our knowledgeable sales associates by calling 877-992-3766 today!