Championship: Epson DiscProducer vs. Bravo Pro Auto Publisher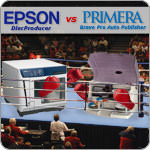 Ladies and gentlemen, it is time for the main event of the evening! Fighting out of the blue corner, this challenger represents the great people at Epson. This newcomer has an impressive record that includes a 100-disc capacity, 30 disc-per-hour throughput, and a 1440-DPI inkjet printer. Weighing in at 52.9lbs and stands 14.84 inches wide, 18.30 inches deep, and 13.7 inches tall: ladies and gentlemen…the Epson DiscProducer PP-100 publisher!
Fighting out of the red corner, the reigning champion represents the fine people at Primera. Weighing in at 26lbs, this heavyweight measures 17.8 inches wide, 17.5 inches deep, and 11 inches tall. With career highlights like a 50-disc capacity (100 disc via adapter), 40 disc-per-hour throughput and a 4800-DPI inkjet printer, this is the one to beat! Ladies and gentlemen…the undisputed heavyweight DVD/CD Publisher of the world, the Primera Bravo Pro!
Well here we are folks! The ultimate showdown between Primera's Bravo Pro and Epson's DiscProducer is about to begin and the crowd is wild with anticipation. Both opponents are evenly matched in almost every category. The Bravo Pro has the advantage in printer resolution which should help in the early rounds, but the Epson has the advantage of 6 individual print cartridges, which will help in the later rounds. At the end of this fight, one will be crowned the DVD/CD duplicator/publisher! Will it be the reigning champion Primera Bravo Pro, or will it be the up-and-coming challenger Epson DiscProducer? We will soon find out!
Round 1
(Ding) And there's the bell! Both opponents rush into the middle of the ring and waste no time trying to take the other down. Primera's Bravo Pro lands the first blow by being the much lighter opponent. This featherweight machine can easily move from one location to another in a hurry. But wait! Epson isn't fazed by Primera's moves, and is now on the offense firing blow after blow with its solid steel construction! Epson is forcing Primera back into the ropes, and is going for an early round one knockout! (Ding) Saved by the bell!
Round 2
(Ding) And the start of round two has begun. Primera's Bravo Pro starts by pumping out lightning quick disc duplication at up to 40 discs per hour! This is no match for Epson's 30 discs per hour. Primera seems to be pushing Epson back against the ropes, and DOWN goes Epson! The referee quickly runs over to begin the count. 1…2…3…4…5… Epson seems be getting back on its feet. 6…7… And the Epson is back up! The referee checks Epson and lets the fight resume.
Epson's DiscProducer immediately seizes this opportunity to pull out its 100-disc capacity! Primera seems to be stunned by this attack and stumbles backwards. Primera Bravo Pro's 50-disc capacity seems no match for Epson DiscProducer's 100-disc capacity. But wait…Primera pulls out an adapter and fires back at Epson with 100-disc capacity! (Ding) Sometimes I really hate that bell!
Round 3
(Ding) Here we are folks, the third and final round! Both opponents stagger back into the ring. Both contenders have taken their licks but they are eager to finish this. Epson starts the offensive, throwing out its 1440 dpi disc printing capability. Primera's Bravo Pro laughs and quickly fires back with 4800 dpi, instantly sending Epson to the ropes! Epson is taking a beating; its 1440 dpi is no match for Primera's 4800 dpi printing. Punch after punch, blow after blow, Epson refuses to go down. I've never seen anything like it! That solid steel construction is proving to be useful.
Primera seems to be slowing down a bit and oh no! I think Primera is running low on ink cartridges! Epson seems to still be going strong and is off the ropes now, pushing towards the center of the ring. Epson sees its chance for victory and is going for the knockout! And DOWN GOES PRIMERA! Epson lands a vicious lower cost per disc print that Primera could not withstand. The referee runs over and starts counting. 1…2…3…4…5…6…7…8…9…10! (Ding Ding Ding) Epson's DiscProducer is now the Undisputed Heavyweight Champion of Disc Duplication!
Highlights
In a move that surprised the entire disc publishing industry, the new DiscProducer from Epson has unseated the long time champion Primera Bravo Pro. Epson seemed to be losing in the first round, but its solid steel construction and reliability proved to an almost instant first round victory. In the second round, Primera came out swinging with its quick speed, but the Epson was not far behind. Epson even brought out the big guns by displaying its 100-disc capacity, but Primera matched its 100-disc capacity and both competitors were at a stalemate.
In the final round, Epson launched a surprise offensive with its 1440 dpi printing ability and despite Primera's 4800 dpi advantage, the Epson DiscProducer was able to outlast his competitor by having twice as much ink as the Bravo Pro. The DiscProducer sealed the victory when it took down the Bravo Pro in the cost per disc category.
Although the DiscProducer has a slightly higher initial price than the Bravo Pro, its lower cost-per-disc really makes up for it over the long run, especially when you consider the low cost of Epson ink cartridges. Just think of how much money will be saved in the long run! For this reason, we declare the Epson DiscProducer the new Heavyweight Champion! Reporting from CDROM2GO.COM, goodnight everybody!