Make A Big Impression with Mini CDs and DVDs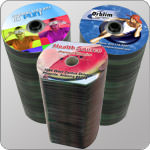 When it comes to blank CDs and DVDs, the selection at CDROM2GO is tough to beat. We carry recordable CD, DVD and Blu-ray discs in almost every format and print surface available. What you may not know is that some of the most popular discs we have are also the smallest! It's true. Customers love our mini CD-R discs, and it's easy to see why.
Miniature CD and DVD discs give you the power to present your information in a compact, pocket-sized format. Our mini CD and DVD discs are available with a shiny silver or inkjet printable surface for printing your own custom artwork directly to the disc surface. They are ideal for small projects such as slideshows, samples, documents, and more!
Of course, a miniature DVD or CD is only as secure as the packaging it comes in. Fortunately, we also stock mini paper sleeves, vinyl sleeves, and even mini jewel cases for securing your miniature discs during transport.
As an added bonus, clients and customers love the "cute factor" of a miniature disc in a miniature case. There is just something about miniature discs that really grabs people's attention gets them excited to explore the contents.
Besides mini CD and mini DVD discs, we also carry business card CDs, which are sometimes called "hockey rink CDs" due to their similar shape. Business card CDs feature two straight edges and two rounded edges for a unique shape that's sure to be memorable to your audience.
"Good things come in small packages" as the old saying goes, and miniature CD/DVD discs are no exception! For more information on our mini CD-R and mini DVD-R discs, please visit our online storefront at CDROM2GO.com.